Architects
Using timber for architectural projects is an opportunity to create something uniquely beautiful.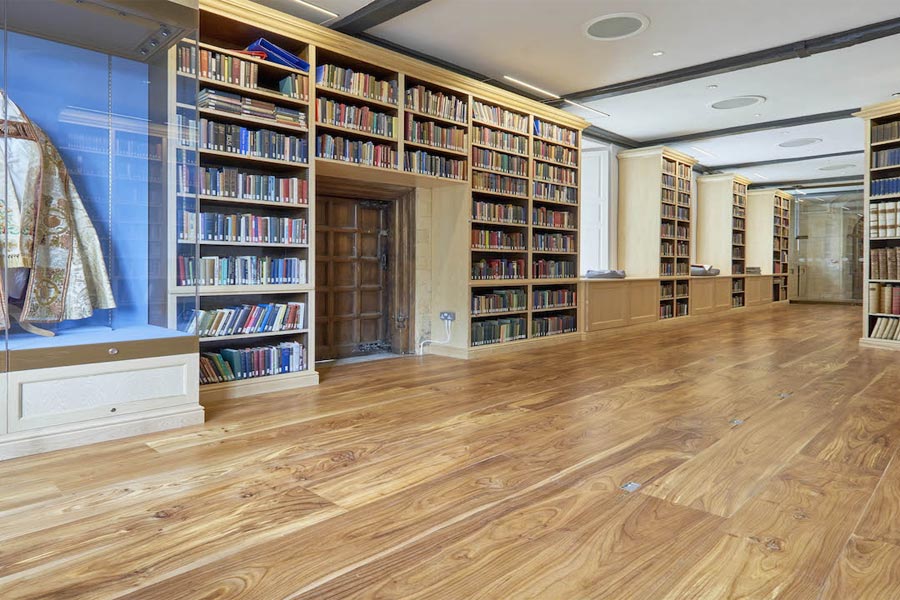 Working Closely
At Sutton Timber we understand that architectural and design projects have specific requirements and specifications. We listen carefully to our clients, their architects and designers to ensure we provide the most suitable timber for the project. We have been part of many prestigious architectural projects over the years including the Royal Festival Hall, The Houses of Parliament and The Globe. More recently we supplied a fabulous solid elm floor for the new library at Rochester Cathedral.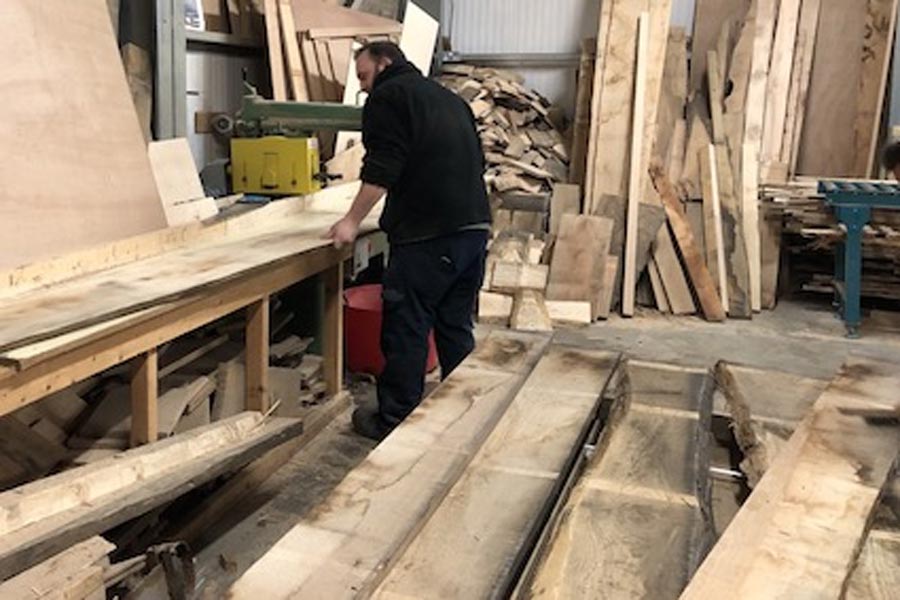 On Site Joinery Shop
Our on site machine shop at Sotterley Sawmills allows us to offer a bespoke service where machine profiling is required. Keeping everything in house enables us to schedule in projects to ensure we meet architects and interior designers deadlines. Every project is unique and we are totally flexible in our approach to making bespoke wood flooring. Our qualified wood machinists and cabinet makers have been working in the industry for over 25 years and are very experienced and competent craftsman.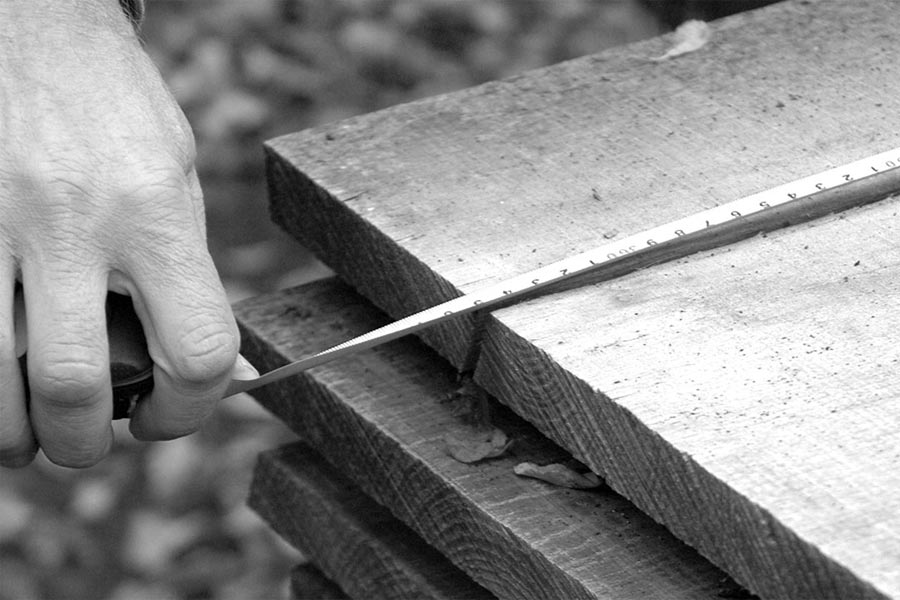 Our Timber
Ben Sutton oversees the entire process of the business. From purchasing logs, milling, seasoning and kiln drying. He liases directly with architects and designers. Being involved at every step Ben has knowledge of the provenance and traceability of each individual log. Thus ensuring he is totally confident in the quality and sustainability of the timber we produce. We welcome architects to call or visit our yard to discuss their wood flooring projects or call for advice to discuss your individual project.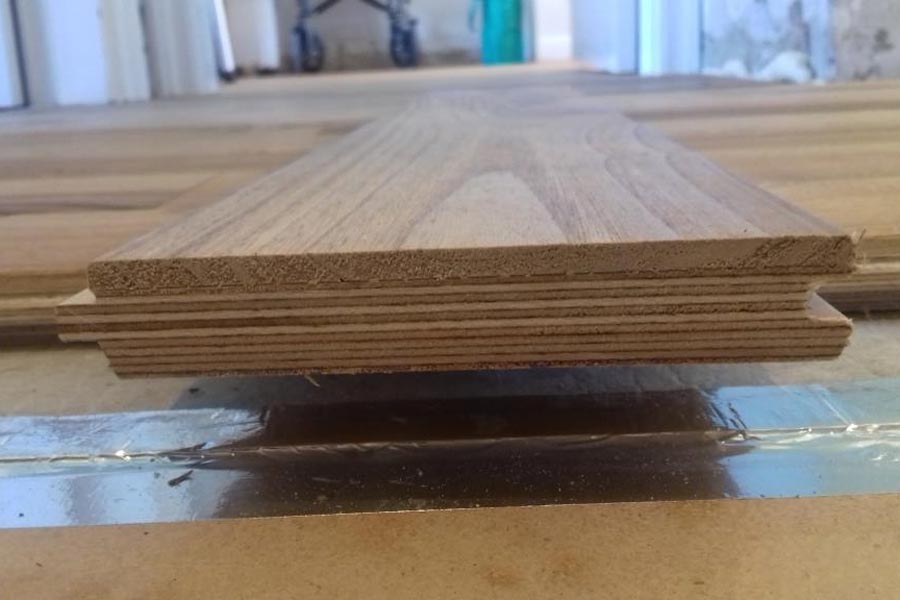 Our Product
We stock a full range of high quality hardwood flooring species available in both solid and engineered. Traditional oak, contemporary ash, stunning elm, translucent sycamore, warm tonal English cherry or our native sweet chestnut with its mineral streaks there is something to suit all tastes.
Engineered Flooring
Available in a huge range of styles and finishes, from natural to the palest of white to grey to almost black. Engineered flooring is a top layer of solid veneer bonded onto multiple layers of ply which are tightly fused together. Producing a floorboard that looks identical to solid but has had any tension removed providing a floor with greater stability.
To produce our engineered hardwood flooring we take a solid board of 27mm and cut three sheets of 5.5mm veneer from it. Each 5.5mm veneer is glued to best quality 12mm or 15mm exterior birch ply.
Solid Wood Flooring
We supply only the very best quality solid wood flooring which is graded according to species. Choosing the grade is dependant on the style of the property and the look you are trying to achieve. Grade however, should not be confused with quality, it just defines its unique and natural features. Including the amount of knots, variation in grain, potential cracks and the colour of the timber. For example our oak flooring consists of four grades; First, Character, Rustic and Pippy.
We manufacture our bespoke floors but you can also buy our unfinished engineered flooring to create your own unique finish and colour.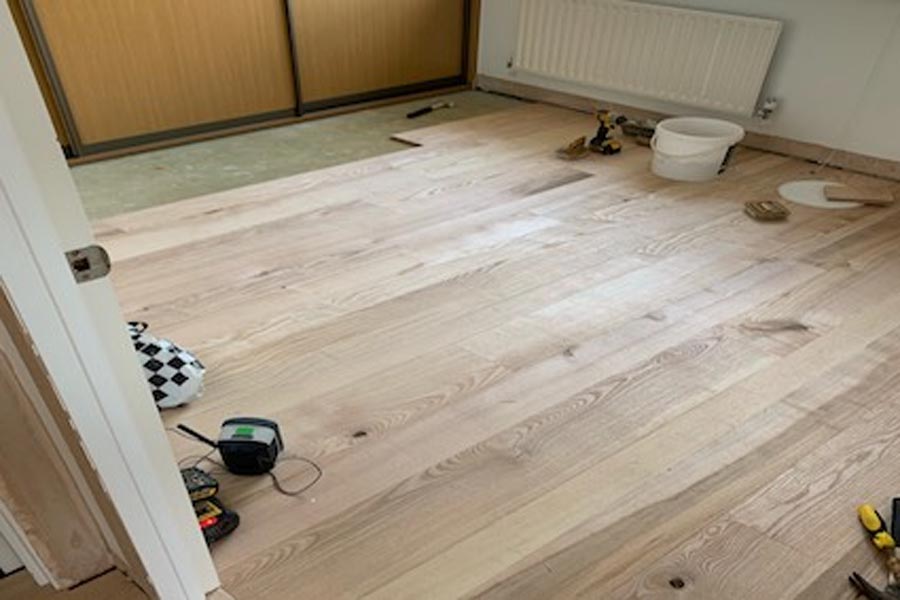 Installation
It is vital before laying any wood flooring be it solid or engineered that the sub floor is in a sound condition.
Solid wood floors can be nailed into existing wood subfloors such as floorboards or plywood but the original floorboards must be in good condition and level.
Alternatively and more preferably you can nail down a solid wood floor over a concrete subfloor with the use of battens. A damp proof membrane sheet must first be laid over the concrete subfloor before the battens are laid.
There are various ways of fitting an engineered floor. Produced with a tongue and groove on four sides it simply slots together. It can be secret nailed to a wood sub-floor or glued down if laying onto a concrete base.
Nailing (Secret Nailing)
A more traditional method of laying a floor. Nails are hammered through the tongue of the boards and then covered when the groove is butted up to the secured board. Nailed floors can be laid over battens, directly on to the timber floor joists or straight onto a concrete sub floor.
Floating Floor
Floating is a term describing a specific way of fitting a floor. It is installed over a suitable existing underlay such as concrete, plywood or vinyl which itself is also laid over an appropriate sub floor. A floating floor is not fixed down to the sub floor so the only part that is glued is the tongue to the groove. The whole floor relies on the weight of the floor keeping it in position. It is a popular and quick way of laying an engineered floor.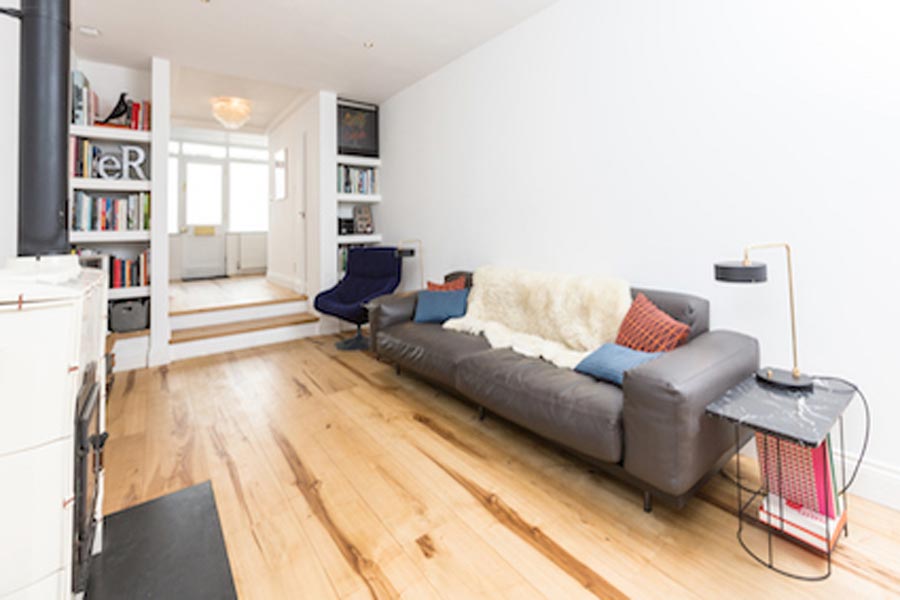 Case Studies and Comments
Mrs Anthony commented:  'The finished kitchen,' solid wood flooring, drawers, side panels and architrave look perfect.  We are delighted with the result.  Ben Sutton of Sutton Timber is extremely knowledgeable about his product. I would not hesitate to recommend him and his company'.
Ben has many years of experience in the industry and it is obvious when speaking with him that he is committed to his craft.  He is involved in every stage of the process from sourcing the timber to overseeing the final delivery. I found both Ben and Richard supremely skilled and uncompromising in their commitment to quality and a real pleasure to communicate with at any stage of the project.
'Choosing Sutton Timber and English engineered ash flooring was the single best decision we made during the whole of our refurbishment.' It is a genuine pleasure to recommend Sutton Timber.'
'The chestnut flooring is just beautiful! The sinuous ripples in the grain and interesting tiger striping make it a real talking point.'
'I found Ben Sutton very professional and knowledgable about his product. My company used elm for an old hall renovation. The quality is A plus and we will definitely use his company again for our restoration projects.'
'I used Sutton Timber's first grade solid English Oak flooring throughout my property. My flooring fitter said it was the best oak in England! The wood is simply beautiful – a clear grain with just the right amount of variation and movement – I never get tired of looking at it.'