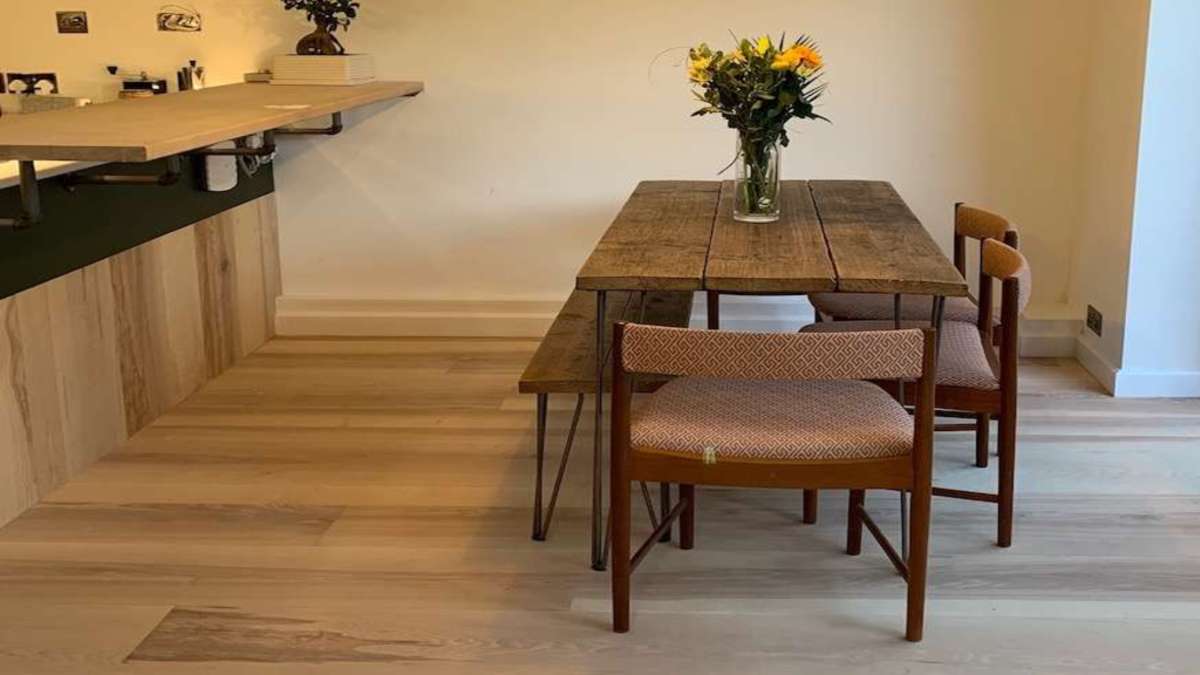 Solid English ash flooring is a very popular choice for our customers, satisfying the current trend for a lighter wood interior. Beautifully pale in its natural state ash is prized for its toughness and flexibility. Boards from English ash trees are varied with a medium to coarse grain and very few knots. Occasionally there are beautiful olive/brown streaks along the boards. When laid as a floor these subtly toned streaks of grain make for interesting contrasting tones in the floor.
Our client was looking for exactly that for his country cottage. Mixed width boards of 150mm, 200mm, 250mm and 300mm supplied unfinished allowed for an invisible finish to be applied once laid.
On receipt of the boards it is important to carefully unwrap and stack them in the room where the flooring will be laid. (Read our blog about Acclimatising wood flooring for more information). Thus allowing boards to acclimatise gradually to the ambient temperature and preventing any movement or splitting when laying.
A floor with boards of a mixed width gives a more random, less uniform appearance. It is more in-keeping with a cottage style or older property. When laying the floor take time to consider the placement of boards. Boards with more grain or perhaps with differing tones, or even just those that are of particular interest and appeal to you. Place these boards in areas of the floor that are visible and will not be hidden by furniture.
In comparison to other flooring options such as carpeting (which typically needs replacing every five-to-ten years), solid timber flooring represents an extremely environmentally-friendly option. Its thickness allows sanding down and refinishing many times. By replanting woodlands after extraction of timber makes wood and incredibly renewable resource.
You can expect a solid hardwood floor to give you anywhere between 80 to 100 years' service. Hardwood floors are incredibly durable and strong. With the longest lifespan of any flooring available. Take a look at the portfolio pages for more ideas and inspiration.