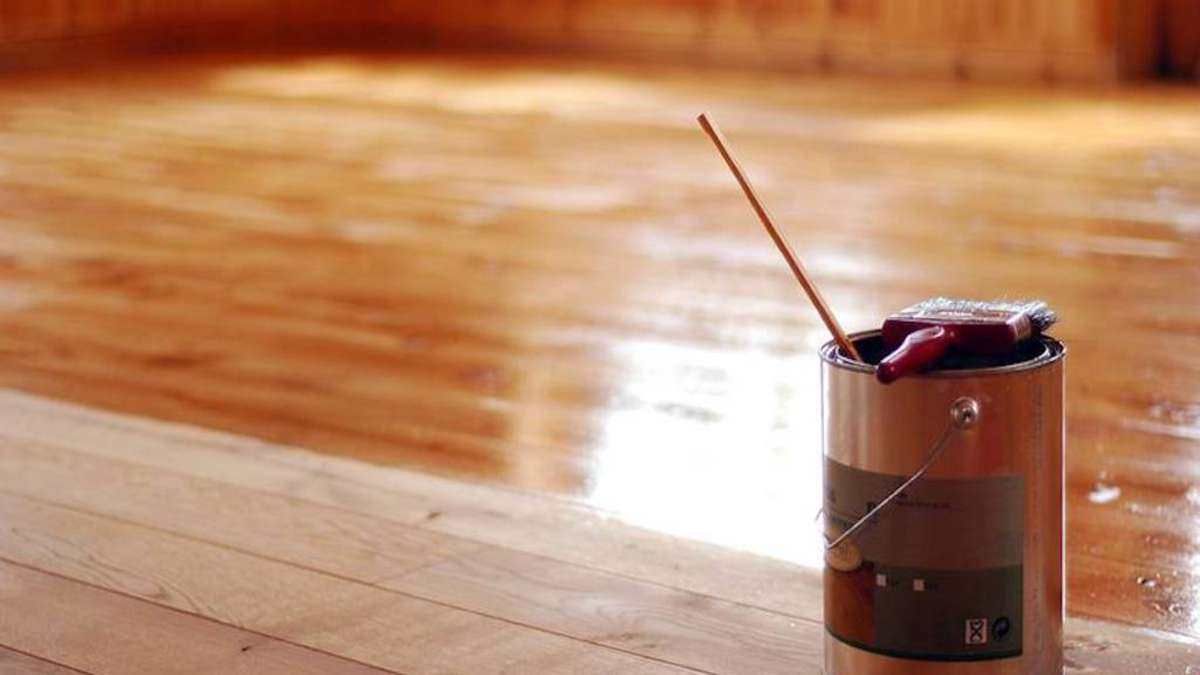 Hardwax oil is a combination of vegetable oils and natural waxes that are brushed onto hardwood flooring to finish and protect it. It is one of two popular coatings for solid wood floor boards, the other being lacquer (usually a kind of polyurethane varnish). Which one you opt for will depend on a number of factors including personal taste, as well as how much wear the floor will be getting and how much maintenance it will require.
Benefits of hardwax
Hardwax oil gives a long-lasting, durable finish that forms an excellent repellent barrier for water and dirt. It gives a great look to a floor, bringing out the wood's natural tones with richer golden hues that are well suited to darker woods like oak. Transparent lacquer is often a better option for lighter-coloured woods such as ash.
Whereas lacquer provides a layer of waterproofing that sits on top of the hardwood floorboards, hardwax actually soaks into the wood, penetrating the surface and giving deeper protection. Even when there is some surface scratching, the wood is protected from water damage. Lacquer tends to be harder wearing, but if scratched it allows water in. It is also much harder to re-cover a floor. Whether you choose lacquer or wax will therefore affect your flooring's long-term maintenance requirements.
Lacquer: minimal ongoing maintenance, but if damaged the whole floor will need recovering
Wax: more regular maintenance but easy to repair small areas
Hardwax oil comes in matt or silk finish. It's typically quick-drying and can be applied by anyone. Lacquer forms a tougher finish but you will need to cover the entire floor at the same time, and it's generally considered a professional job.
Application
The type of wax you choose comes down to the look you prefer, the kind of hardwood floor you have, and how much wear the boards will be getting. Start by testing the wax on a small area of flooring, ideally out of the way in a corner or under a rug, to make sure that it takes to the wood properly and that you like the end effect.
Minimal preparation is necessary. Simply clean the floor with a soft brush and a vacuum cleaner to remove any surface dirt and dust. Then use a suitable floor cleaner to remove any marks and stains.
Follow the instructions on the hardwax can. Generally this will be no more complicated than applying the hardwax oil with a soft floor mop or a cloth. Depending on the kind of oil you are using it will dry in a couple of hours, though certain types designed for heavier wear take up to eight hours. You will probably need to apply two coats of wax, and sometimes a hardener too. In all, it's a job that can be completed in a day.
Repairs and maintenance
One of the benefits of hardwax oil as a finish is that it is very easy to maintain and repair your boards. If there is an area of flooring that has become worn, simply reapply the wax in the same way, preparing the area by cleaning and rubbing with fine steel wool. If there is serious scratching or damage to the floor, you may need to sand it down to the boards before re-waxing. For day-to-day cleaning, use a specialist cleaner for waxed floors. Your flooring company should be able to recommend the most suitable one.
Note: do not try to change to lacquer if your floor has previously been waxed. The wax forms a waterproof finish that will prevent the lacquer from taking to it properly.