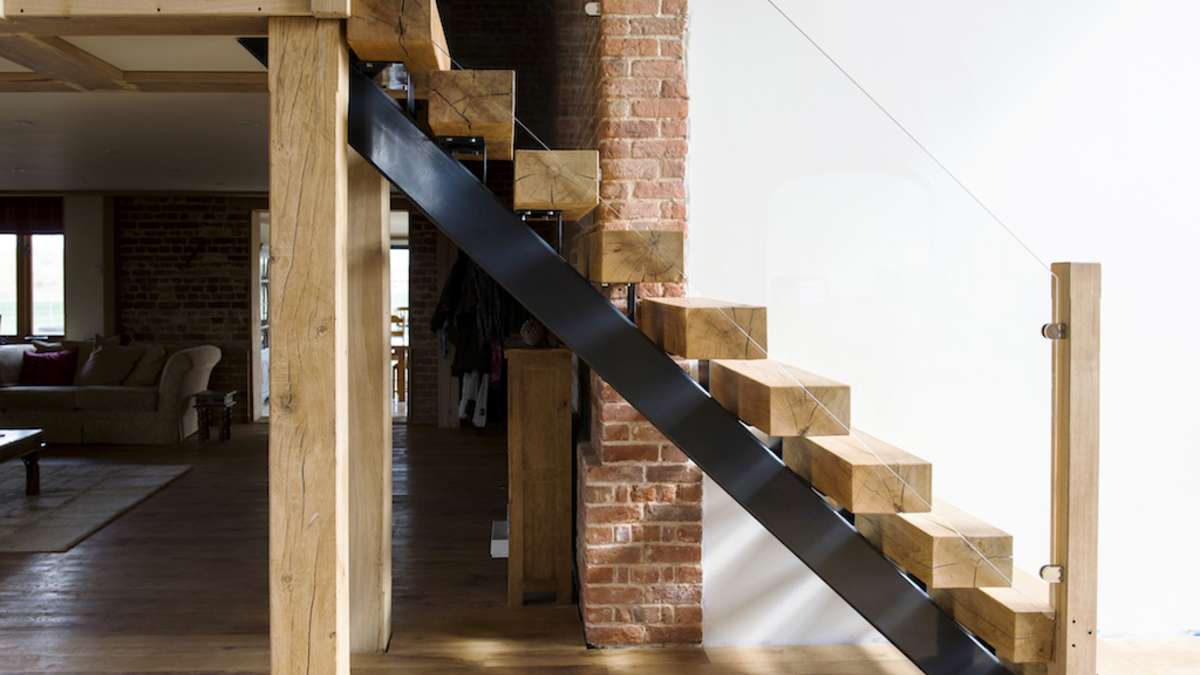 A traditional wood staircase crafted from solid or engineered wood brings classic elegance to your home and also adds a design element to a space. Revered by architects and engineers for its strength and architectural attraction using a hardwood timber such as oak, ash, elm or cherry for a staircase design is a popular choice. Combined with modern materials like steel and glass for a contemporary look or used in a more traditional way it adds the 'wow factor.' There are a many different styles of staircase from straight to spiral, curved to angular, stairs incorporating a half or quarter turn or even helical.
STRAIGHT
Straight staircases are the more common type but also have the most versatile design. There are plenty of options available in terms of material, finish and style. Due to its simplistic design a straight staircase is the easiest to build. Generally no landing is required if the overall vertical height is less than 12 feet. One disadvantage is, if a stair is over 12 feet, then a landing is needed to break up the span thus requiring a fair amount of space. A solid elm stair demonstrates how selecting timber with a fabulous grain makes a stunning feature of the whole staircase.
WINDER
A winder is a stair that basically incorporates a turn in the flight and is very much part of the design. Perfect for homes where space is at a premium it minimises the area required and therefore rarely dominates a room. Usually it comprises of a combination of straight and winder treads which fit around any arc or turn in the stair. Typically a central support is required. A winder stair makes a striking visual statement in terms of an entrance area to any home or commercial property.
QUARTER-TURN/HALF-TURN/CURVED
Quarter turn or L-shaped stairs comprise a straight flight of stairs that make a 90-degree turn after a landing. More visually interesting than a straight stair they can be located in a corner space and provide a visual barrier between floors offering more privacy. More difficult to build than a straight stair as a support is required for the landing. In our modern build properties it is often desirable to open up the space leaving the underneath visible creating more of a feature staircase.
A half-turn or U-shaped stair comprises two straight flights that make a 180 degree turn after having been separated by a landing.
A curved stair adds elegance to the space with a continuous flight shaped like and arch and no landing. Curved stairs are by far the most difficult to build and therefore generally more costly.
OPEN TREAD
Very popular and contemporary an open tread is much favoured by designers often opting for a floating staircase. It creates a stunning open, cantilevered feel to the flight. Modern designs incorporate glass and steel creating minimalist features. Despite the appearance, the stair is extremely solid and robust and can be manufactured in a variety of configurations. Fantastic for modern, open plan living spaces it allows the passage of light through and barely any hint of fixtures or fittings are evident once completed.
The feature staircase below rises from the ground to first floor. Incorporating a steel structure and steel balustrade, with ash clad treads and handrail. So that the treads matched the ash flooring the fitter used solid ash boards but made the treads hollow so that each slotted over the steel supports. A solid ash section for the handrail completes the look.
CUT STRING
A cut string stair is a very classic design giving a feeling of grandeur to the space. On a cut string staircase the newel strings follow the treads and risers. The craftsman will normally dovetail the top and bottom allowing the spindles to be fixed securely into position.
CURTAIL STAIRCASES
Also known as a bull nose the curtail refers to the rounded corners of the bottom step. It creates a wider entry point and adds more support to the newel post and offers an attractive finish to the final step.
VOLUTE
This is the end of the handrail and again the sky's the limit with the design using solid wood it can be bespoke to your personal taste. From an elegant curve to a big chunky final post.
Some options to consider before deciding on your design are; are you looking for a statement feature? Is space a premium? Is storage required in the form of an under stair cupboard? There are many professional design companies who are able to help you make an informed choice. The Homebuilding and Renovating website is a good guide. However, as far as the choice of timber is concerned, solid or engineered is equally suitable.
Please contact us and we will be happy to talk through the options.