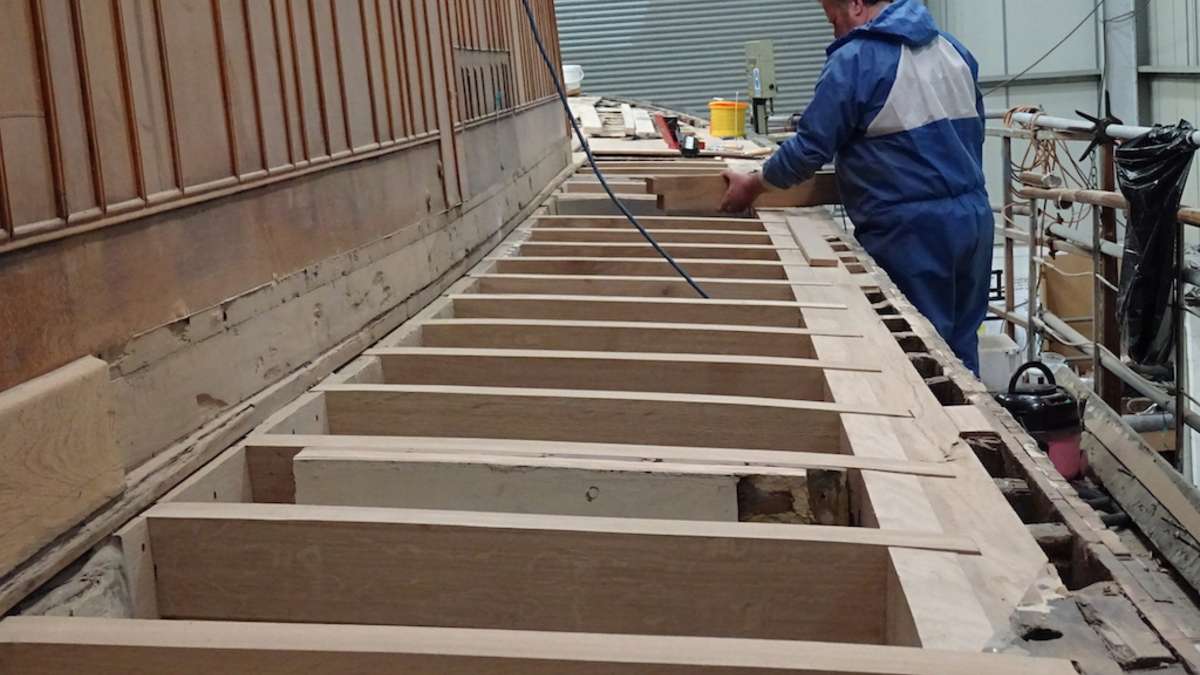 Sutton Timber is proud to supply Fox's Marina & Boatyard

in Ipswich Suffolk with

English oak

for the annual maintenance and refit for the historic Havengore.

Specially commissioned by the London Port Authority in 1954 to act as a flagship and supply vessel, Havengore was constructed to the highest standards in teak over a framework of oak.

In 1965 watched by a worldwide audience of 350 million, Havengore took centre stage during the funeral of Sir Winston Churchill as she was used to carry him on his final journey along the River Thames.

She fell into disrepair during the 1990s but was rescued and restored. The multimillion pound project took more than fifteen years to complete. Since then this historic classic motor yacht has once again been at the forefront of many important events.

She was selected for Queen Elizabeth's Silver Jubilee celebrations in 1977, participated in the 200th Anniversary of The Battle of Trafalgar, carried members of the royal family as part of Queen Elizabeth II's Diamond Jubilee celebrations in a flotilla of over a thousand vessels and more recently during June 2016 lead a flotilla for her majesty's 90th birthday river pageant.

Havengore is is maintained to the highest standards by quality craftsmen at Fox's Marina where she returns each year for a full survey and ongoing refit. Ben Sutton Timber provided large boards of first quality and joinery grade English Oak which will be used in the structural replacement of Havengore's deck beams. Ben Sutton said 'It was a pleasure to meet and discuss the specific requirements for the Oak needed for Havengore' with Ollie Patten from Fox's at Sotterley Sawmills in Beccles where Ben personally oversees the selection of timber for every client.

Fox's Managing Director, Will Taylor-Jones commented: " It has been reassuring to work with Sutton Timber who have helped source and supply much of the high quality, well seasoned English Oak required for such a challenging project".