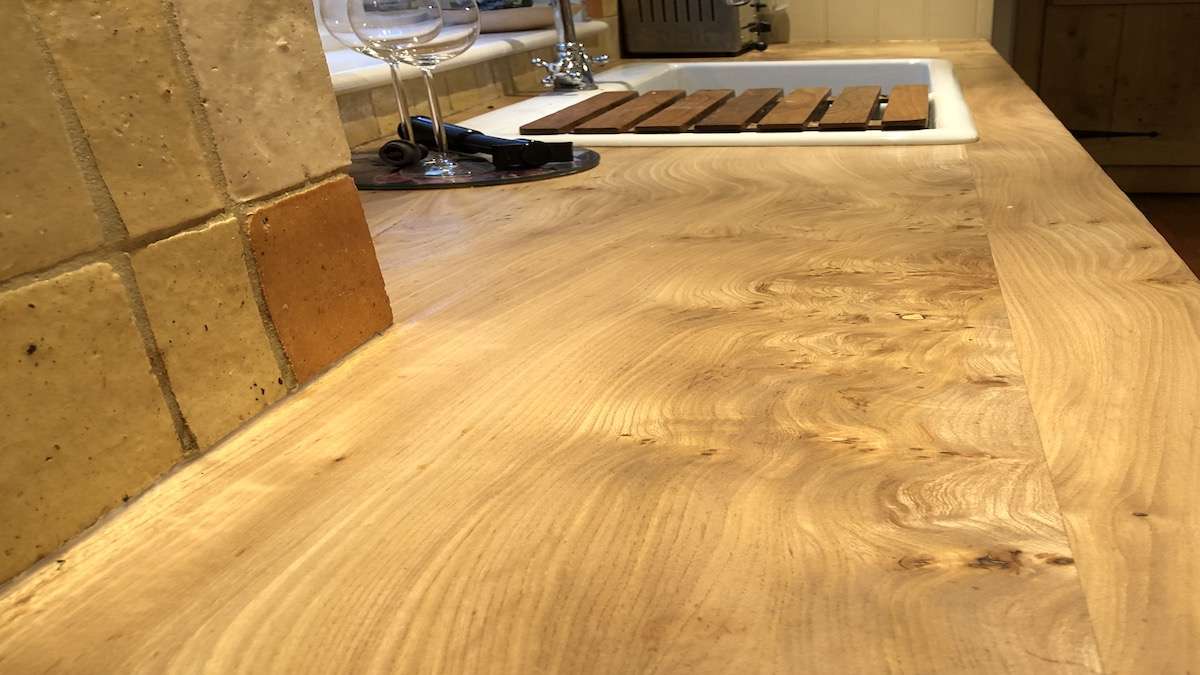 When planning a new kitchen worktops are an important feature. If adverse to the thought of solid wood kitchen worktops read on. Eco-friendly and enduringly popular, the natural grain features of elm or oak adds a natural beauty bringing a touch of character to the heart of the home.
BUT WHAT FINISH DO I USE TO PROTECT THE WORKTOP?
Oils are by far the best finish for a solid wood worktop, giving the wood a natural radiance but also water resistance. We recommend Osmo TopOil. Available in tinted versions, matt, satin or a natural finish.
Features and Highlights
A professional worktop oil designed for wooden worktops and table tops
Provides a tough, durable, lasting finish
Excellent resistance against liquids such as water, juices, wine, coffee, beer and fizzy drinks
Ideal for use in high humidity areas
Does not peel, flake, crack or blister
Enhances the natural beauty of wood
Based on natural oils
Food safe when dry
High V.O.C
APPLYING OSMO TOP OIL
Always do a test area before starting any project to assess product suitability and final finish. Follow the manufacturer's instructions on the tin at all times. Osmo Top Oil is ready to use and does not require thinning. Stir well before use
Apply the worktop oil thinly along the wood grain using an clean, lint-free cloth.
Work the oil into the surface of the wood grain
Remove any excess surface oil with a clean, lint-free cloth
Allow to dry appropriately with good ventilation
Lightly sand the surface if required taking care to remove all dust that this may create
Apply a thin second coat as above
To make sure you get the longest life and best appearance from your solid wood kitchen worktops, it takes a little effort on your part. Surfaces are easy to maintain with a ready to use maintenance spray . The spray cleans and moisturises the wood at the same time as maintaining and protecting the finish. Applied with a lint free cloth the spray is quick drying and leaves a streak free finish.
The grain of the wood is enhanced once this product has been applied and if the final finish is not shiny enough, buffing it with a cloth will create a sheen. Because the natural oils and waxes penetrate deep into the surface they help to keep the wood supple thus preventing it from getting dry and brittle, therefore reducing swelling and shrinkage.
KEEPING YOUR WORKTOPS IN TIP TOP CONDITION
Worktops are highly durable but avoid dragging heavy or sharp items across the surface.
If you dent the surface, immediately spray on some water place a damp cloth on top and iron the surface. A good quality worktop will react well to this an the dent should rise up.
The worktop will benefit from applying another oil coating every few years.
Mop up stains and spills as soon a possible.
Use a good quality pan or pot stand, most wood worktops will withstand some hot articles being placed on them it is best to avoid where possible.
I say it's a small sacrifice to pay to maintain your solid wood surfaces. It gives you the pleasure of seeing that beautiful grain day after day. View our portfolio section to read about a client who has a stunning elm worktops in their kitchen.