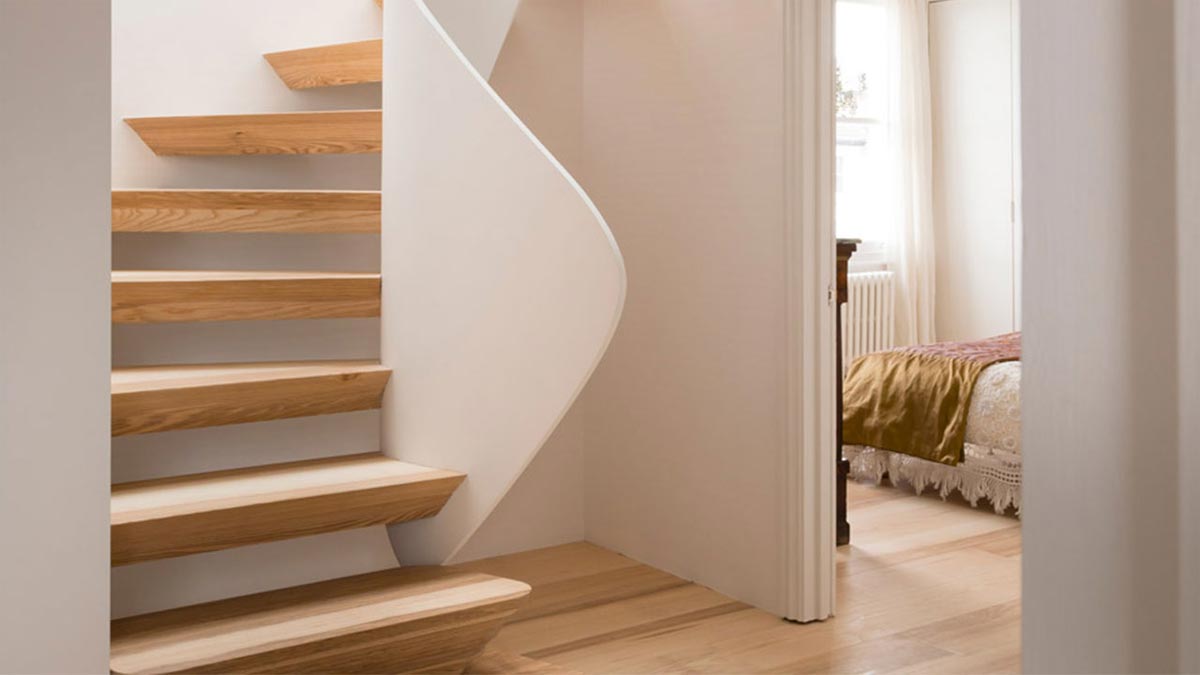 Sutton Timber's Ash supplied for a Bespoke Sculptural Staircase
Award winning Architects 51 Architecture were asked to reconfigure this two level apartment in Hampstead, London. The clients wanted to "evoke feelings of the Italian landscapes of their childhood, the sensory experience of cool enclosure and bright, warm fields" said project architect Matt Smith. Crown boards from English ash were supplied by Sutton Timber to give a lighter contemporary finish for this inspired project.

Downstairs cooler, shaded spaces are decorated with a calm spectrum of whites, allowing the natural decorative qualities of the ash to take centre stage. At the centre of the plan, a new timber stair is suspended below a skylight. The original boxy staircase was replaced with a design that offers tighter geometry with an organic transition between the living area downstairs and the brightness and warmth of the level above.
The innovative stair was constructed using a combination of digital fabrication and traditional boat building methods. First modelled digitally and 'unravelled' so that it could be CNC cut as a two-dimensional shape. The cut timber was then placed in a steam bath and bent to form the internal stringer. The first two treads were built up from several layers of ash. The remainder are all from solid ash boards which have been separated by gaps.
The intention was to create a stair with no visible fixings, so the balustrade is suspended from above and fixed to the surrounding walls by the ash treads. "The twisting banister was top hung from a hardwood hook, and then restrained back to the adjacent walls by the ash stair treads, which have been shaped, dovetailed and dowelled by carpenters on site," said Smith.
Visible from above and below the natural texture of the stair treads radiate away from the stringer. The shape of the underside of the treads makes the timber appear folded and provides an altogether different form.
Engineered English Ash flooring supplied by Sutton Timber for this contemporary build adds a natural consistency and flow to the whole apartment. Ben Sutton commented "It is wonderful to see both clients and architects embracing this English hardwood in all its natural beauty creating such a beautiful design and bringing out the true character of the wood.