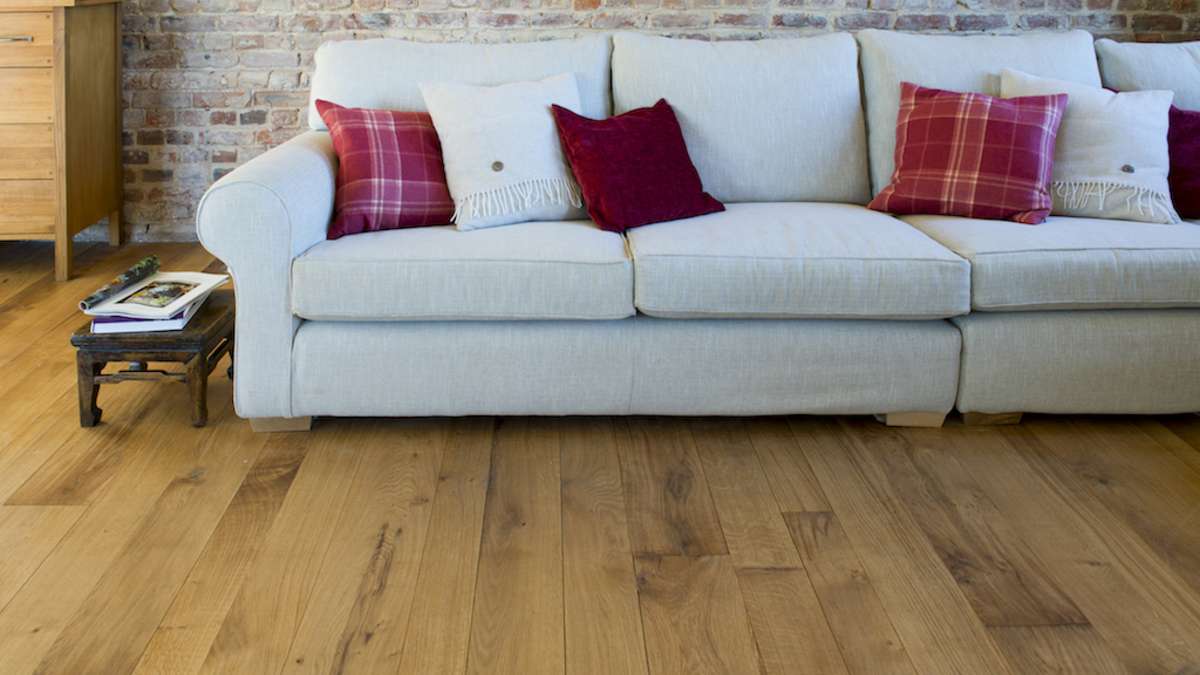 Solid oak flooring can make any room shine. However, installing any wood floor in your house is an investment that needs to be protected over time with the right program of care. Failure to pay attention to a regular maintenance schedule could lead to it becoming damaged to the point where you may need to replace the whole floor. We've come up with a bunch of handy and professional tips that should help you look after your solid oak floor, allowing you to enjoy it for many years to come.
Mopping
You'll want to mop down your solid oak flooring about once a week to once a fortnight, depending on how much it's used. This is to get rid of dust and dirt particles, which may have come to rest on your floor. To do this you'll need to use a standard mop and a bucket of hand-warm water. Dip your mop in the water and then squeeze it as firmly as possible to the point where it's almost dry, before using it to wipe the surface of your boards. You want to avoid getting excess water on your floor at all costs here as this can cause long term damage.
Pads
One of the best ways to prevent damage to your solid oak flooring is to fix special pads to the bottom of the feet on your chairs and tables. Obviously you'll want to avoid sliding furniture round as much as possible, as any weighted item sliding over your boards is not good for their upkeep, but applying these small patches of felt should prevent any serious damage from being caused by minor movements.
Spills
It's always best to wipe up any kind of liquid spill on your hardwood floor immediately, otherwise spillages can cause discolouration of your boards, and swelling if any of the liquid gets into the gaps between your boards. If you do get dirt or liquid on your floor then you can buy a number of different products, such as Armstrong Hardwood & Laminate Floor Cleaner, to apply to the affected area of the floor with a soft mop or a sponge, wiping away any excess cleaner that doesn't evaporate with a clean towel.
Rugs
Rugs can be used to help protect your solid oak flooring. They're great for keeping high traffic areas free from scratches and scuffs that can be caused by people's shoes. Washable cotton door mats with breathable backing materials, to prevent moisture damage to your floor from the mat, are perfect for this purpose, especially near your front door where people may also bring in dirt from outside. You can also use a rug to help keep your floor free from UV damage, which can cause discolouration, laying it over any patches where sunlight is shining directly onto your floor.
Repairs
If you're experiencing splits in the surface of your oak boards, then you may be tempted to have this repaired with wood filler. Be careful however, as many of these products do not expand with the wood boards and this can cause further problems when a board contracts and expands with the seasons. Some people suggest that such splits can be covered up using foam backing and paintable caulking, which may allow the wood to expand without further problems. However the professional opinion is to obtain some oak sawdust and mix this with wood glue to fill any cracks or splits.
Humidity
Wood is able to absorb and lose moisture causing it to expand and contract. Ideally you'll want as little movement as possible in your boards, and this can be achieved by checking the humidity of your room sits somewhere between 40% and 60% with a special thermo-hygrometer. You should be able to pick one of these up from as little as £12 – £15. It's especially important to check the humidity during winter as the air becomes dryer, and internal heating can lead to your floor losing moisture. In order to rectify this situation you can purchase a humidifier, which should cost you no more than £100 in order to keep moisture levels in your room's air at a constant level.
Hand Polish
Polishing a solid oak floor helps preserve the natural shine of the material, and can also add another level of protection. Always remember to make sure that your entire room is clean and cleared out before embarking on any schedule of polishing. It's especially important to remove all dust particles as these can actually damage wood during the process. You'll want to choose a suitable product and this will depend on what kind of finish you've got on your floor. Hardwax oil should only be used on oiled floors and you'll want a approved specialist floor cleaning product, such as Marldon Floor Cleaner, for use with lacquered floors.
Future
If you follow all our tips that have been specially selected to help you look after your oak flooring then there's no reason why you shouldn't get a lifetime's worth of use out of it. The important thing to remember is that a little care, effort and attention in the short term can prevent many costly future repairs.