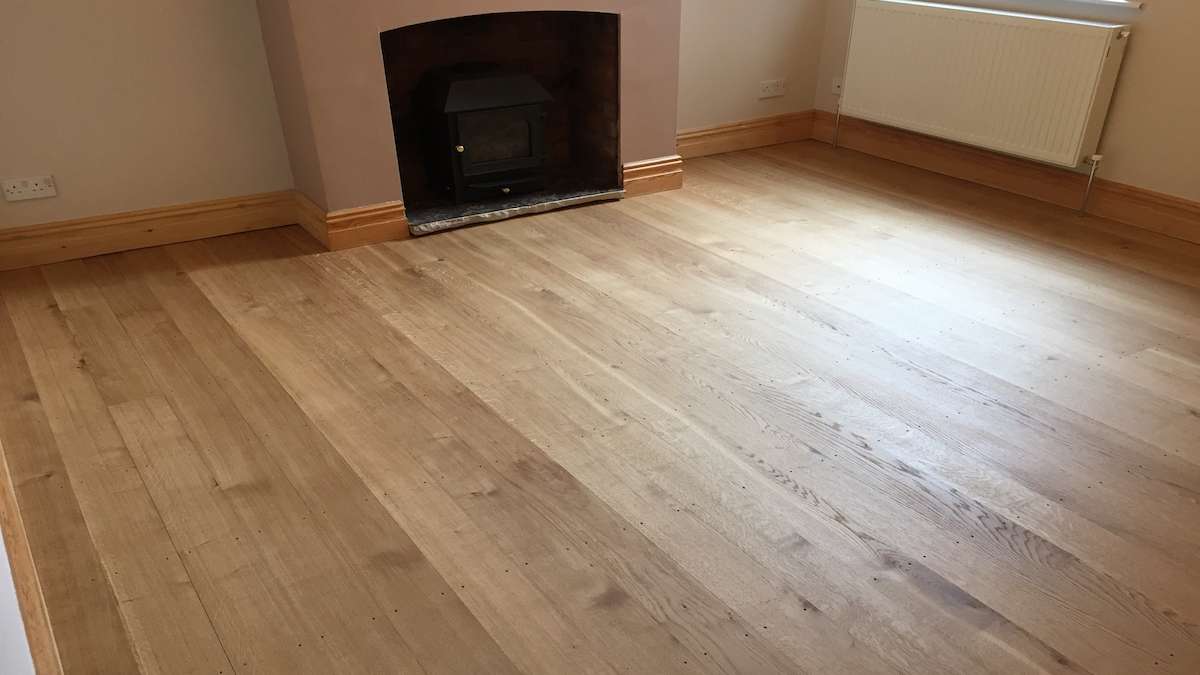 How to apply a finish to wood flooring. Preparation is key and before applying any finish the surface must be clean and dry with any imperfections sanded smooth. Then its a very easy procedure if you follow a few simple guidelines.
We recommend the use of Osmo oils. Manufactured in Germany, they are oil based and microporous. Composed of natural products such as Sunflower, Soya, Linseed and Thistle and combined with natural waxes and pigments, it is low in odour. These oils do not flake, peel or blister, are water repellant and offer superb coverage with a quick drying time.
Firstly you need to decide on the colour/type of finish you would like. Read our guide on Choosing the Right Finish For Your Floor
WHAT TO DO
Keep the room well ventilated

Open can and stir throughly.

Take an Osmo Microfibre Roller and roll well on the grid of the tray.

The Microfibre Roller should only be saturated lightly. A lightly saturated roller will allow the user to cover approx. 45-55ft² (4-5m²)

Start in the far corner of the room working towards the door

Working with the grain, apply the finish as thinly and evenly as possible.

Allow the first coat to dry for 8- 10 hours.

Store the roller and tray in a plastic bag overnight to prevent drying.
Apply a second coat just as the first, allowing again to dry for at least 8-10 hours.
After this time you will be able to walk on the floor but DO NOT apply any mats or rugs until after 10 days to allow the finish to harden off.
BENEFITS OF OSMO FINISHES
There are a range of colours available.

Suitable for all interior use.

Wood grain remains visible with transparent tones and wood grain

Very durable and hardwearing

Water and dirt resistant

Resistant to common liquid spillages such as water, juice, tea, cola and wine

Saliva-resistant and sweat proof, suitable for children's toys

Microporous, breathable finish which does not crack, peel or flake.

No sanding necessary for spot repairs or future applications
Invisible oil means you can apply an oil finish to your floor and enjoy all the protection and nourishment that it brings and you get a completely natural unfinished look. The invisible oil helps protect your floor from the traffic in your home and continues to look great year after year.
The advice given here is intended only as a guide. We recommend work is carried out by a professional.