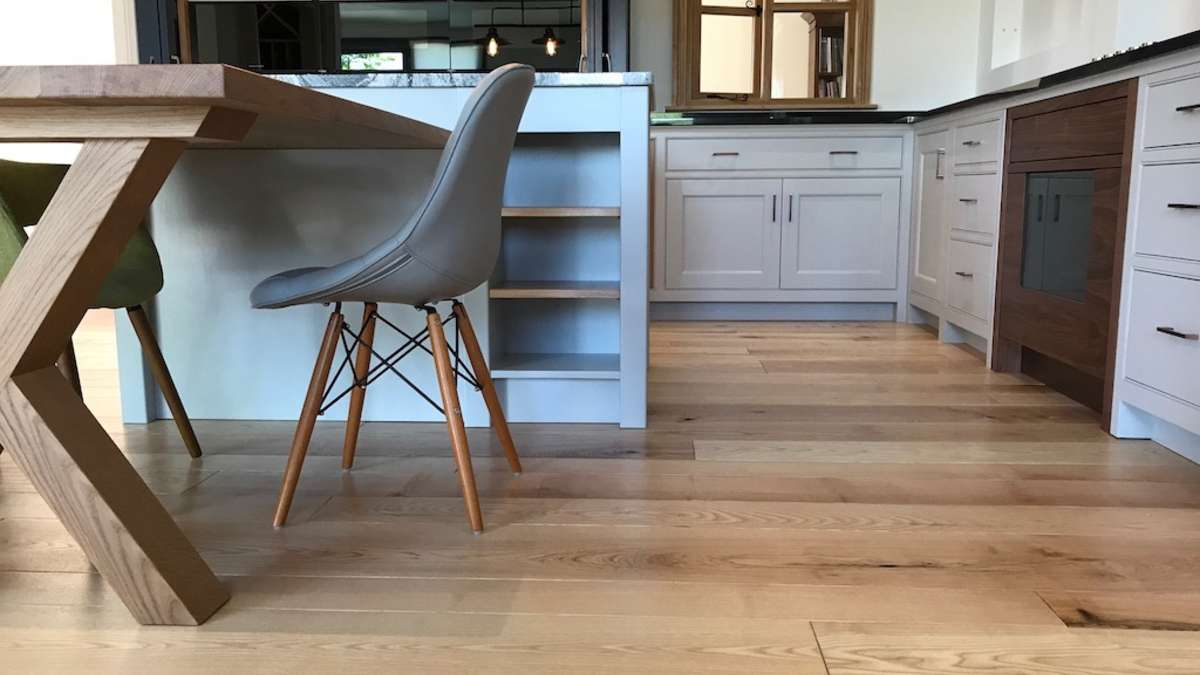 Wood flooring choose from oak, ash, elm or even sycamore its a superb addition to any home. Solid or engineered both are equally popular. But which finish is required? After fitting the floor you need to decide how to seal it. When selecting the finish there are a couple of points to consider:-
– How to enhance the colour and grain to bring out the beauty of the floor.
– How to protect it to keep it in good condition.
Firstly, decide on the style of finish you want to achieve. Do you prefer shiny, or a more natural finish? How much traffic is the floor is going to endure, and how are you going to maintain it?
There are basically two options – oil or lacquers.
LACQUERS
Most lacquers, even matt lacquers, give an appearance of an obvious coating to the floor. Either solvent or water-based, lacquers are more akin to a traditional varnish. The lacquer effectively sits on top of the wood. Ideal in all areas, but mostly associated with areas of heavy wear or high footfall. A lacquered floor can however can be more prone to scratches. When it comes to repair, a lacquered floor does require sanding and re-coating. It's considered the more durable of the two options and often used in schools and municipal areas. Numerous brands are available in both a matt, satin and gloss finish. Lacquers offer some UV protection, so if the floor is exposed to long periods of sunshine this can help to prevent fading. Lacquers are ideally suited to historic homes where a darker more traditional look would suit.
OILS
The modern day equivalent of the old fashioned wax method, oils are a blend of natural ingredients. Providing surface protection, the oil penetrates into the wood offering a deeper protection by feeding into the core of the timber. An oiled wood floor gives a very natural look with a softer finish than a lacquer. If required it's easy to apply a maintenance coat of oil every 18-24 months to bring it back to that brand new look.
Once the flooring is laid it is time to apply the finish. There are a variety of stains and finishes available giving the option of choosing an exact match to the decor of the room and furnishings. The boards maybe stained achieve lighter or darker tones, white, weathered grey, walnut or even black. Some oils are also applied to create a stunning brushed effect (see image below). Highlighting and further enhancing the natural grain of the timber. However, sometimes all that's needed is a clear finish as oak, ash and elm boards are beautiful in their natural state. A natural oil promotes the existing tones and features across the boards.
Maintaining a wood floor is easy all that's required is a regular sweep or soft vacuum. With good housekeeping an oiled floor lasts for many years. If overtime it becomes a little careworn, it's just a matter of lightly sanding and re-oiling to return it to its just new look.
We recommend the use of Osmo oils. Manufactured in Germany they are oil based and microporous. Composed of natural products such as Sunflower, Soya, Linseed and Thistle combined with natural waxes and pigments it is low in odour. These oils do not flake, peel or blister, are water repellant and offer superb coverage with a quick drying time. Apply a second coat after only four hours.
For a more natural looking floor an oil is definitely the recommended finish. Suitable for any home or interior and with a huge range of colours and finishes available any look is achievable.
SATIN OR MATT FINISH
Influenced by the amount of light entering the room a satin or matt finish really is personal preference. The basic difference is very subtle. Satin has a very slight sheen with matt giving the floor a natural untreated look. Oils are resistant to dirt, water and abrasion and a minimum of two coats of the product is generally applied. See attached link for more in depth Osmo product information.
CARE OF YOUR WOOD FLOOR
Osmo have also designed products to be used alongside their flooring finishes. From regular maintenance cleaning, to systems designed for more intensive cleaning and re-coating.
To help clean and protect your floor, it is advisable to look at using a regular care and maintenance system. Most companies who supply floor lacquers or oils have a readily developed a system to use with their products. However, in both cases it is essential NOT to use a cleaner that is too abrasive.
WOOD FLOOR MAINTANENCE
Wear and tear is very much part of the product. Using felt pads under furniture prevents any scuffs and scratches. Depending on the amount footfall the floor endures, it requires very little maintenance. Dusting with a damp cloth is all that's needed. However, if over time you do wish to re-finish your floor, it is best practice to resend and re-apply your chosen oil to the whole floor to avoid an uneven finish.
At Sutton Timber we supply both solid and engineered flooring visit our website for more information further advice and features about solid and engineered wood flooring.