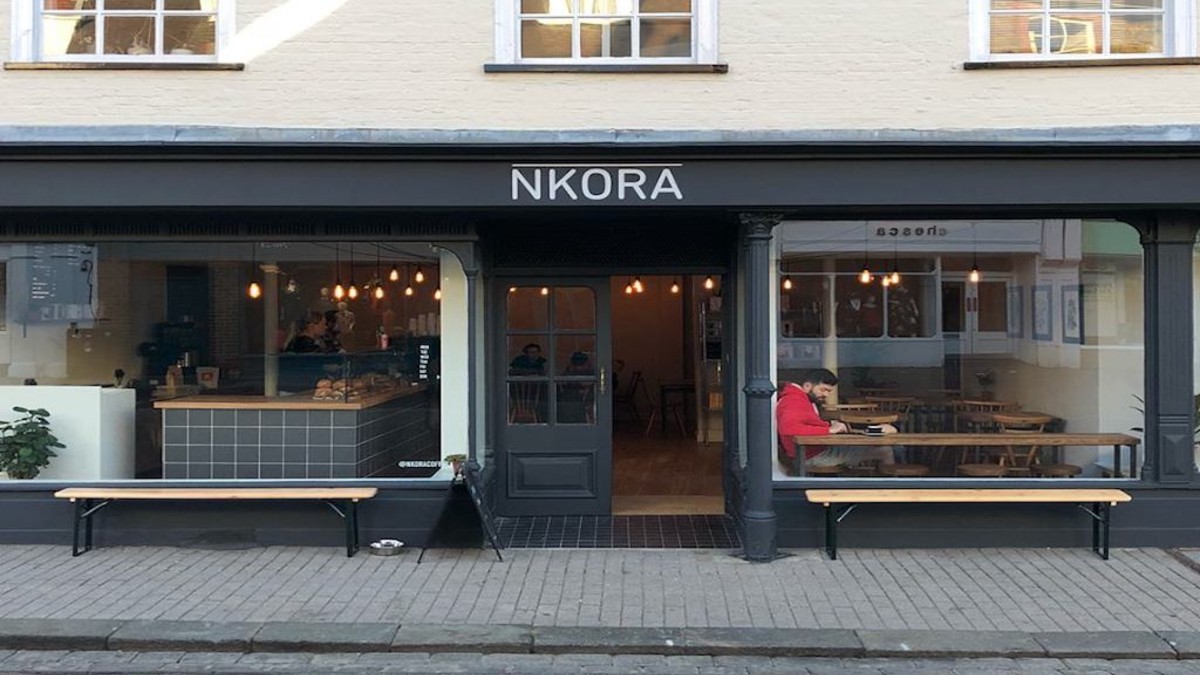 With two already successfully established businesses in London Nkora Coffee decided to migrate to the suburbs to open a brand new shop right in the heart of St. Albans. The totally refurbished shop now has beautiful engineered elm flooring throughout and a very stunning elm counter top all supplied by us at Sutton Timber. Character elm was selected for its natural tones creating a rustic yet modern environment that evokes a cosy, warm atmosphere.
The counter top is an impressive five metres long by 700mm up to 1300mm at its widest point. The carefully selected boards not only to exhibit interesting grain patterns but are also of optimum length, with one board measuring an impressive four metres!
With such an exceptionally long piece it was first considered to deliver the counter top in two sections. Leaving the mitre joint roughly cut to allow the onsite fitters to attain the correct angle in relation to the walls. However, it soon transpired that it was far too wide for delivery by the usual methods. Eventually it was decided it was safer for the installer Richard Higgins of RHS Flooring to deliver direct to St. Albans it all in one piece.
With a finished thickness of 47mm it provides a really solid surface. Elm is traditionally the timber of choice for many a bar top and this extremely durable timber will give many years of service.
Engineered character elm flooring compliments the counter top. Three different widths of 120mm 160mm and 220mm create a random width floor. It is important to know when considering installing an engineered floor that it is of a superior quality. Particularly in areas of heavy traffic such as here in the cafe. Our elm boards have a top veneer with a thickness of 5.50mm supported by 15mm best quality exterior birch. Supplied finished with one coat of natural oil allowing for the floor to be installed with the final finish Ceramaxx lacquer applied on site. The finish has excellent durability and has a reliable performance on wood floors, particularly in highly trafficked locations.
Since it's grand opening on 1st October 2019, Nkora Coffee St Albans has been warmly received by customers. It is the recommended go to place for great coffee and inspired menu choices. Give it a try and while you're there take a moment to check out the fabulous elm floor and countertop.