Engineered Oak Flooring
The natural warmth of English engineered oak is a hugely popular choice in our range.
Oak Engineered Wood Flooring
English Oak has always been the most popular choice for wood flooring, our engineered oak flooring range is no exception. We offer four different grades:-
First Quality
Our first quality English oak engineered flooring and our European oak engineered flooring comes from the very best trees available. Straight grained and defect free, first quality oak is the pinnacle of quality and refinement.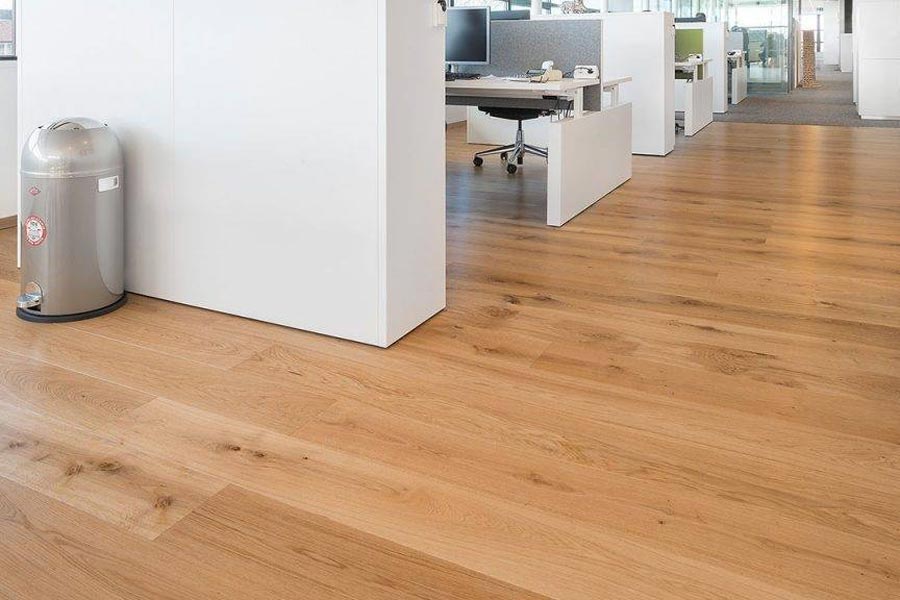 Wide and Long Boards Available
Seen here in an office environment engineered oak wood flooring is a good choice for any commercial premises. Perfect over underfloor heating and easy to clean, it does not harbour the dust that carpeting does, creating a more allergen free environment for your staff.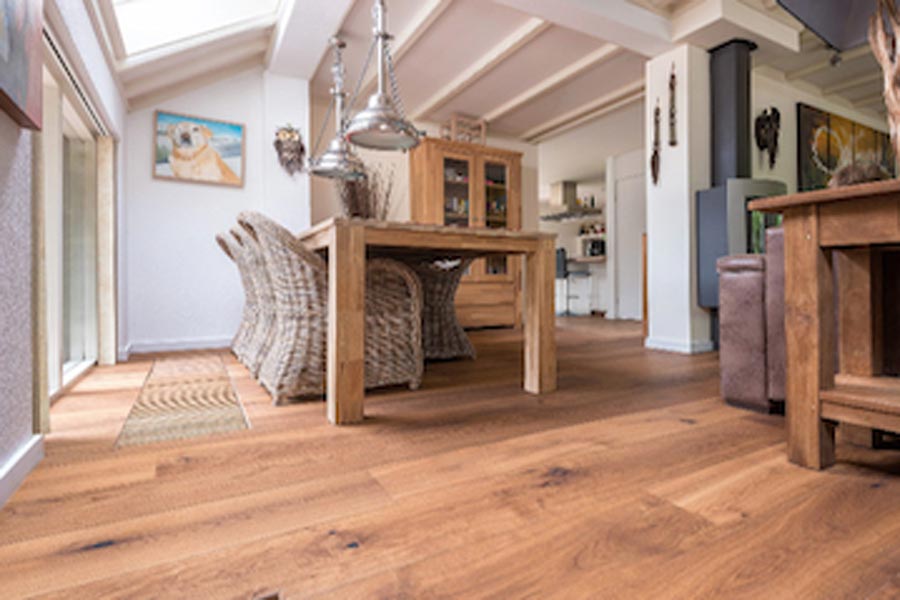 Supplied Finished or Unfinished
Warm golden hues are the colour of natural oak. However, with engineered flooring many finishes are available. From smokey greys, vintage tones, to almost black, our engineered wood flooring is supplied unfinished. Allowing you to apply the stain of your choice in situ to match your decor.
Rustic Oak
Rustic oak has larger more regular knots with hairline cracks on the face and occasional splits on the ends of the boards. Rustic oak floors are often darker than character grade with more burrs colour streaks and knots. These knots and cracks are filled and then sanded giving a silky smooth perfect finish, but still retaining its rugged beauty.
Character Oak
Character oak is the most popular grade of oak we sell. Featuring occasional small live knots up to 30mm with little splits and cracks. The overall appearance is a predominantly clean floor but with more swirling grain providing interest. For a sleek, minimalist look, character grade solid oak flooring offers premium quality flooring.
Pippy Oak
Pippy oak is a uniquely English grade. The trees are covered with epicormic growth. When the log is sawn the appearance on the board is as though a cat has stepped in ink and then walked all over the board, hence the term Cat's Paw. It describes the lovely way in which small knots and knot clusters form along the boards. The result is a truly unique and beautiful floor.
For more information and prices