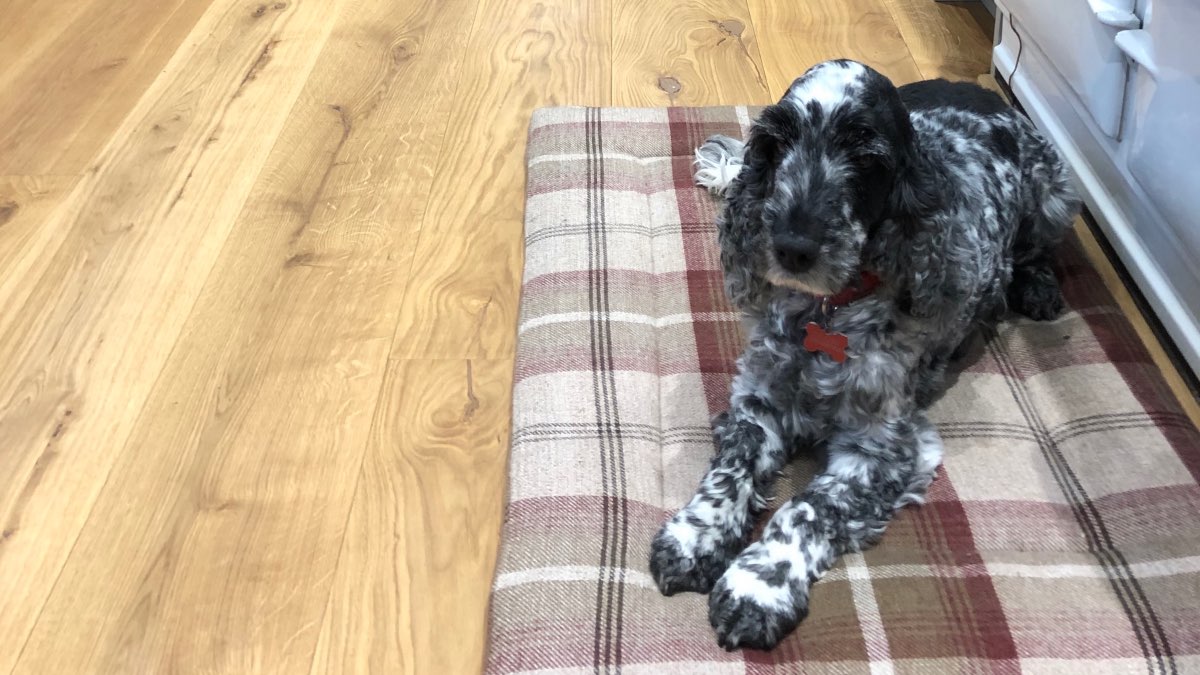 One of the questions we are frequently asked by our prospective clients is – can I have solid or engineered wood flooring if I have pets? The answer is definitely yes. However, a little knowledge about the different wood flooring options available is essential to help you decide which is best for you. With a little care and maintenance wood flooring can withstand the messiest of pets. In this guide we offer a few tips to keep your flooring looking good whilst allowing the comings and goings of muddy paws.
Hardwood flooring is very durable and definitely the better option over soft wood. With oak and elm popular choices or other species include ash, sycamore and chestnut in both solid and the engineered flooring range. There is very little difference between the look of the surface of a solid wood floor and an engineered floor. A solid wood floor is made up of solid boards. Engineered boards are a layer of solid wood bonded onto a ply base. Buy the best you can afford especially if opting for engineered. The best quality engineered boards have a thicker top veneer of solid wood that allows for re-sanding 3 – 4 times giving the floor greater longevity. Solid flooring is equally suitable and can be re-sanded many times.
FINISHES
Choose your finish carefully, opt one that is hardwearing. Steer clear of lacquers that often have a glossy finish that will show scratches more easily. An oiled finish retains the natural look of the wood and any scratches seem less apparent. If after time the floor gets a little tired oiled floors are easily repairable. Any small scratches are repaired with the use of a maintenance oil, deeper scratches can be lightly sanded first. Choose a high quality matt oil finish (we recommend OSMO products). Oil finishes do wear off after time, and applying a fresh layer is a really simple process and will bring the floor back to new again.
MAINTENANCE
Regular cleaning and weekly vacuuming with a soft head will keep your floor clear of dust increasing its longevity. The fur balls that appear like tumbleweed across the floor are easily visible and easy to sweep up, unlike carpeting where it just sticks to the floor. Read our blog on maintenance for further advice. https://www.suttontimber.co.uk/blog/care-and-maintenance-wood-flooring/
To prevent marks in the first place try to keep your pets claws trimmed. Theres not much you can do to stop small scratches but ensuring paws are kept short will minimise the risk of avoiding major scratches. If possible have a mat at the entrance of hallways to reduce the amount of dirt and moisture entering the room or wipe their paws.
Far more hygienic than carpets, wood flooring is so easy to clean and dramatically reduces the existence of storage and dust mites along with all other parasites such as fleas and is a great relief for allergy and asthma sufferers.
Don't let the thought of pets and hardwood floors deter you – millions of homes harbour both peacefully and without issue. Making the right choice when it comes to wood types and styles, quickly cleaning up accidents and keeping an eye on nails will all help maintain the floor.
Its a compromise that maybe your hardwood floor won't look new forever, but we like to think that a few scratches here and there are a small price to pay to have your beloved pet and and a stunning wood floor.