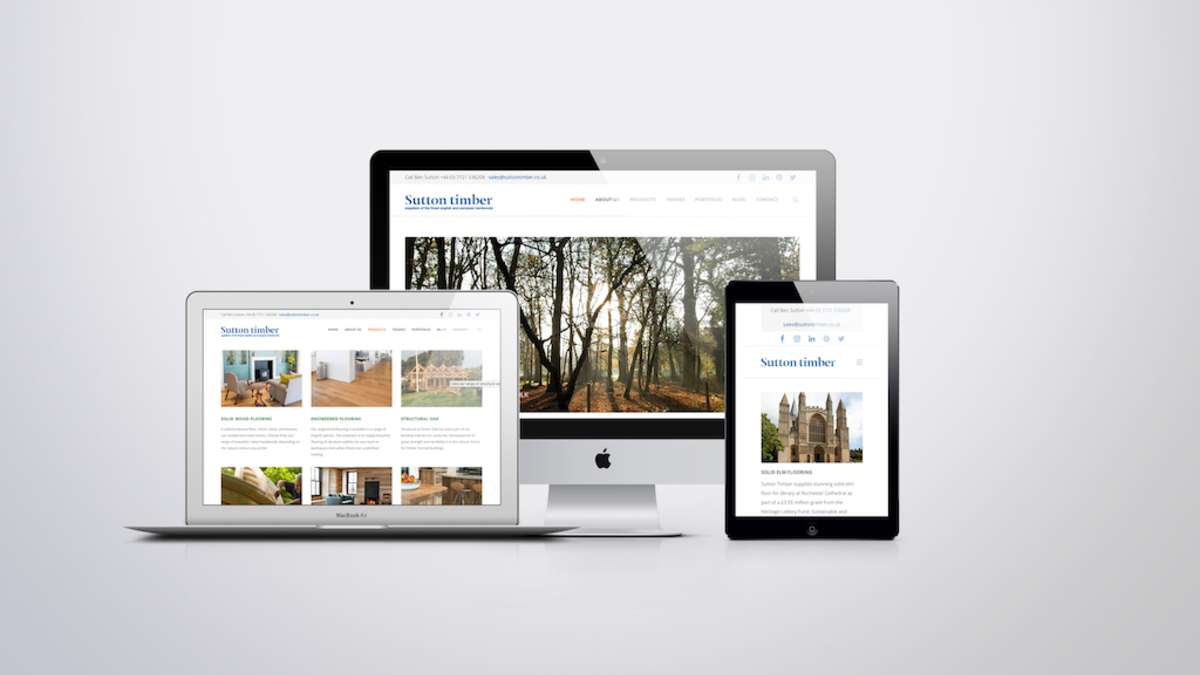 Sutton Timber specialises in the supply of high grade English and European hardwoods to both industry and individual clients. This week, we are proud to announce the launch of our newly designed website. Created to provide a more user-friendly experience, improved navigation and greater functionality, visitors can now use the site to access detailed product knowledge, case studies and share content across all popular social media platforms.
Our old website was traditional and served us well for many years. However, it became clear that it was dated and struggled to accept the updates required to remain synchronised with the digital world. With the increased use of mobile devices to view websites, we wanted to ensure that our audience could access the site through smartphones and tablets.
Our customer research demonstrated that many visitors could not find the required information about our product range. We have always put a large degree of emphasis on customer service – so we felt that this was simply inadequate. Anyone viewing our site should be able to simply find the details of our product range, the bespoke service we offer, and get a clear message about our company's identity.
This was achieved by adding more defined professional imagery and detailed product specifications highlighting the products we supply across the UK. Customer testimonials are provided by comprehensive case studies, and the whole production is wrapped up by a colourful portfolio section showcasing how many of our clients are utilising our services.
Managing director, Ben Sutton made the following statement: "after the business became my sole responsibility, refreshing the website was a primary concern. Giving visitors a sense of the bespoke and personal service we offer is a vital step in allowing them to understand our unique value proposition. We believe our new website showcases our passion and pride – and hope you enjoy browsing it as much as we have enjoyed making it…"
About Sutton Timber
Ben Sutton solely took over the running of the business in April 2016 following 20 years of successfully supplying timber to builders, architects and clients. He now fully controls the timber process from start to finish – from purchasing logs through to milling and air-drying. Sutton Timber delivers a truly comprehensive service and tracks the heritage of every piece of timber sold. The onsite joinery shop adds a further dimension allowing the bespoke machining of timber to order. Supplying solid and engineered flooring, structural and joinery oak and finished products including bespoke pieces of furniture, doors, handrails and skirting.