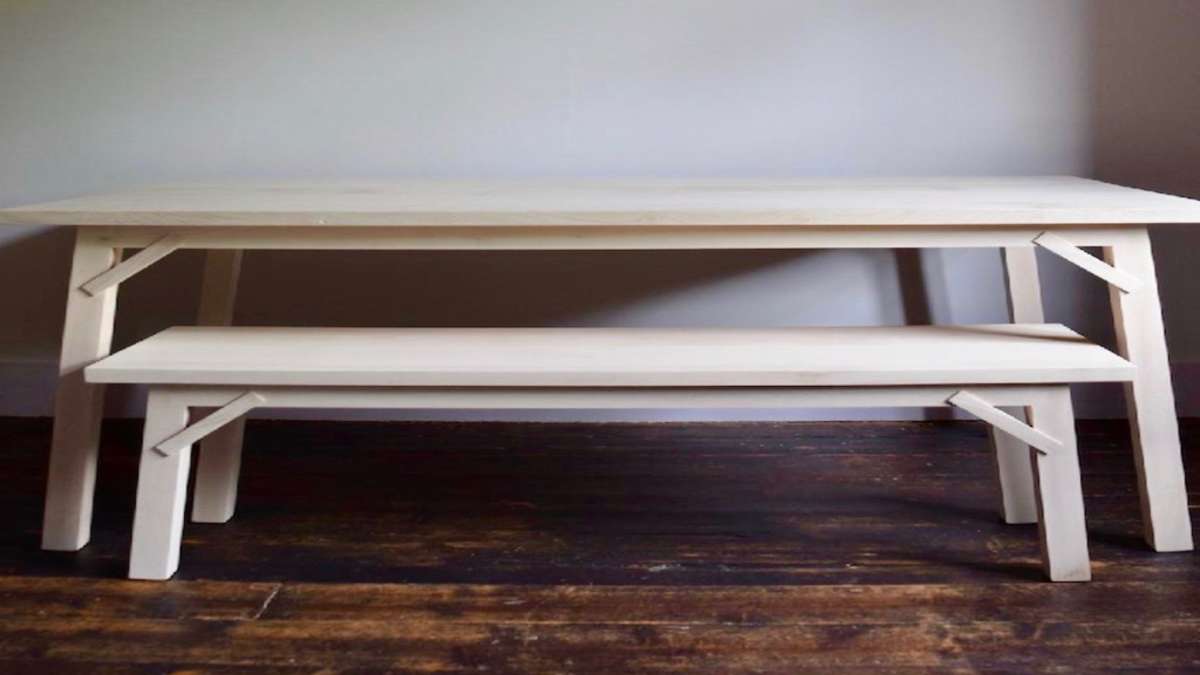 Based in Suffolk Andrew Whittaker is a Furniture Maker and designer with a conscience. Visiting our yard at Sotterley Estate Andrew selected sustainably sourced sycamore boards originating from Dunbar, East Lothian to form this beautiful table and bench.
Andrew is currently setting up Hyrst a furniture/homeware business based around sustainably made furniture and homeware. Using only UK-grown and milled timbers he wants to inform his customers about specifics on the origins of products he produces.
When visiting Sotterley Sawmills Andrew viewed the range of timber available. Choosing seven sycamore boards, one 54mm and six 35mm in width with this specific table and bench in mind. Andrew was keen to discover the information and background behind his purchase and we were happy to oblige. He asked questions specific to this piece of furniture he felt his clients would be interested to know. It adds provenance to a piece creating a story he can pass on with the furniture.
QUESTION ASKED AND RESPONSES
Q How far is timber transported?
A We transport logs by road to Helmdon Sawmills in Northampton. Here milling takes place before moving on to Sotterley Sawmills in Suffolk.
Q Information on the drying process – what powers the kiln and how long is the timber in kilned for?
A Our computer operated heat/vent kilns run mostly on red agricultural. With one kiln a 28 second kero. It takes about 4 to 5 weeks to kiln dry a 54mm board to a moisture content of 12%.
Q How are trees felled and what is the selection process?
A Felled in a conventional manner, usually by chainsaw, and extracted by machine. Trees selected for thinning maybe dying or distressed. By thinning it allows more light to the woodland floor. Hence other plants are able to thrive and the remaining trees to spread.
RESPONSIBLY SOURCED
When selecting timber we always ensure it comes from sustainably managed woodland. Tagging logs at point of sale gives each log a unique identity number. The tags remain with the timber until it is sold. Therefore it allows us to track the origins of every board to the estate it is from. Granted by The Forestry Authority, a felling license is further proof of the origin of the trees. It shows who owned them, and they have been felled legally in an environmentally friendly manner.
At Sutton Timber we wholly support the responsible management of our woodlands. Trees are felled during winter when the sap in the tree is down. Extracting heavy logs with large machinery over wet winter ground damages the fragile soil structure. To overcome this, we purchase logs a year in advance. Extracting logs when the ground frozen or at the end of the breeding season. Committing to conservation Ben Sutton approaches his trade with care and by personally selecting and buying all our wood he can be confident in the quality and provenance of all our timber.