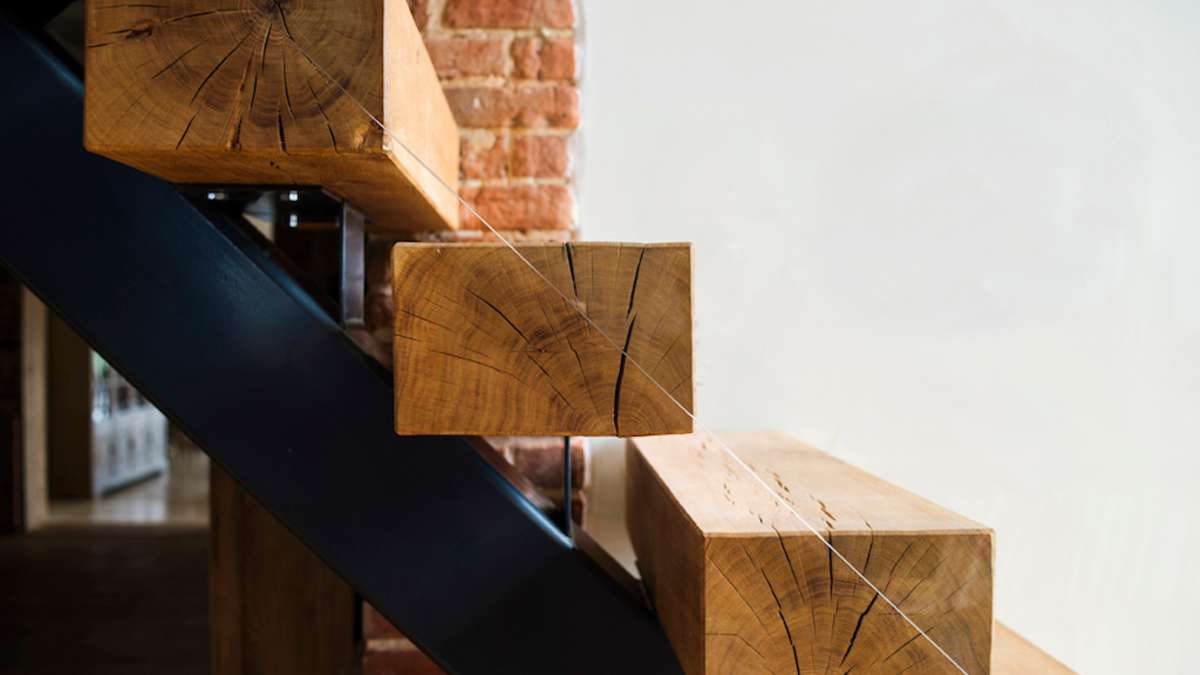 A solid wood staircase is a great way incorporate a beautiful feature into your home. It can be created from a single piece of wood a solid wood staircase can be designed to any style of your choosing. There are many different designs available and it is well worth researching the different options. Consider too, the additional features, such as the range of newel posts, spindles, banisters and end steps.
For a barn renovation in Suffolk, Sutton Timber were asked to supply solid oak for a contemporary staircase. The clients wanted a stair that complemented the featured brick walls, solid oak flooring and existing old structural beams in their property. They opted for solid fresh sawn oak. Each oak riser was cut to 150mm finished size and fixed giving the appearance of floating steps.
Here the glass banister and solid oak newel complete the look of this rustic yet contemporary design. The side on view exposes the end grain of the timber with annual rings. Having a feature staircase in natural oak tones adds warmth and character to the room complimenting the solid oak flooring and pulling this whole space together.
A wooden cantilevered staircase or (floating staircase) is a load bearing structure. It is achieved by a cantilever fixing on the end of each step. The wooden treads are then reinforced with metal and mounted on the wall.
Alternatively using elm is another very popular option. Elm is a darker timber full of movement in the grain and very hardwearing and durable.
At Sutton timber we stock a range of hardwood timber suitable for creating your bespoke staircase. Oak, ash, elm, and cherry are particularly popular. At Sotterley Sawmills in Suffolk, we have an on site joinery shop where timber is cut to your specific requirements.