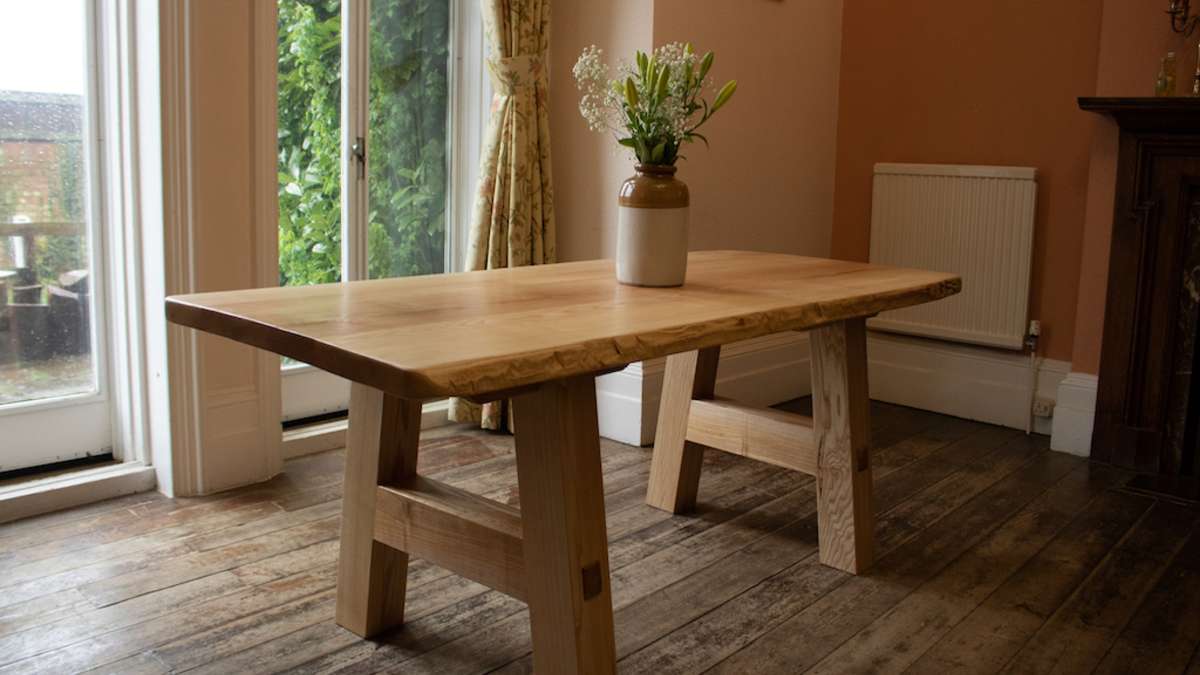 Established in May 1998 Lockhart Garratt are a consultancy working across a range of environmental disciplines. As part of their 20th anniversary celebrations they commissioned Joram Bannister of Grace Woodworks to make two solid ash tables boardroom tables. When founded the company employed just four people so the original boardroom tables were bought off the shelf. Fast-forward twenty years and they now have over thirty employees. With an office in Chipping Norton and work from Cornwall to County Durham – they needed more space around the table! Selecting home grown English ash as the timber to produce the tables they felt it supported the ethos of the business. Rob Stockley, Forestry Consultant at Lockhart Garratt endorses this with the following points-
By Using timber as a building material:
Using trees to grow timber eliminates carbon dioxide from the atmosphere. Timber is made into useful and beautiful things. This is a particularly neat part of the fight against climate change.
Using ash timber:
Ash trees are being devastated by Chalara ash dieback, and we currently expect around 95% mortality. Harvesting weaker trees gives more space to the remaining trees which consequently cope better with the disease increasing chances of reproduction.
Using home-grown timber:
Through the UK Forestry Standard and Forestry Commission regulation, buying timber grown in Britain, we know it's harvested legally and sustainably. Part of our expertise is in increasing the value of forests for wildlife. Timber harvesting is a key part of that. UK Forestry also supports 80,000 jobs often in rural areas with few other skilled employment opportunities. This is something we want to continue to support.
Lockhart Garratt finalised the design of the tables with Joram. Specialising in traditional joinery, Joram designs, makes and finishes bespoke furniture. He prides himself on using woodworking joints of old – mortise and tenon, dovetails, draw bore tenons and the like.
Visiting Ben at Sotterley Sawmills Joram selected five 2" mixed width rough sawn ash boards. After transporting to his workshop in North Norfolk the boards were machined into shape, planed, glue jointed and sanded for a smooth finish.
Three pieces of 2″ ash laminated together make up the leg posts. Formed into A frames with traditional wedged mortice and tenon joints employed to aid strength. Applied with a cloth and brush Osmo TopOil leaves a beautiful natural finish.
After reading about carpenters writing their names inside timber building frames, Rob Stockley suggested to incorporate the idea into their design. Everyone at Lockhart Garratt wrote their name on a piece of paper and Joram used his CNC machine to engrave these on the underside of each table. This gives a record of who was working at Lockhart Garratt at this point in time, and forms a lovely link into the future.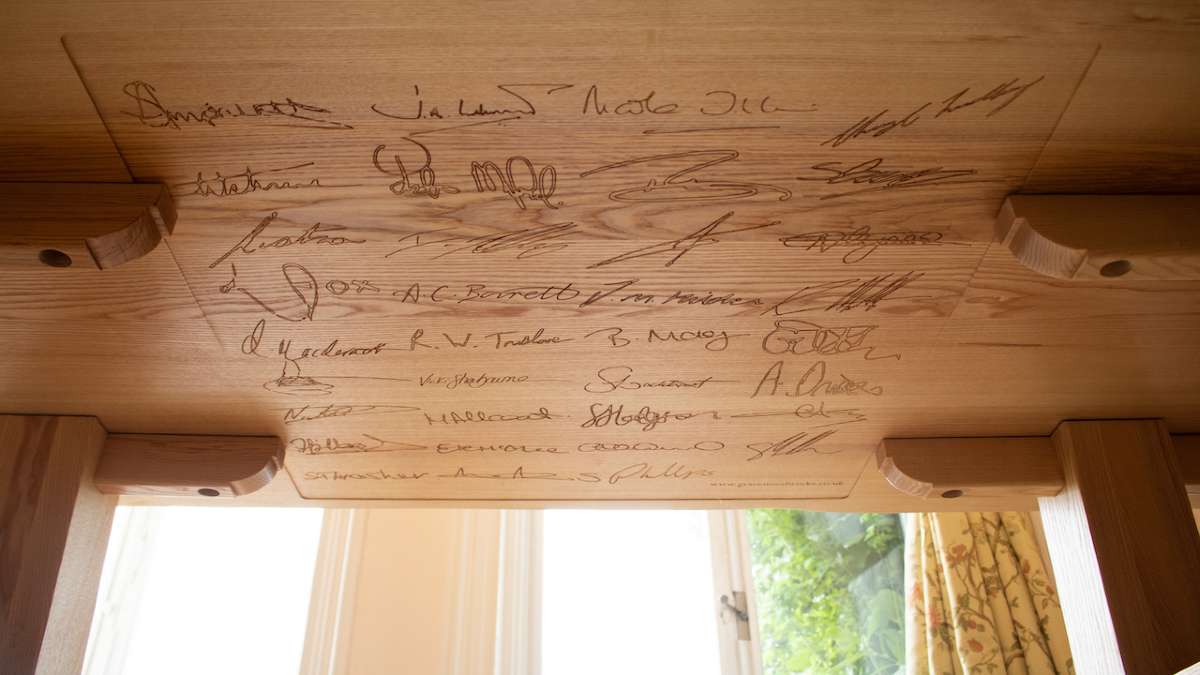 Joram commented: 'I really enjoyed producing these tables. I love making things from wood. There's something about it that makes it special. Maybe it's because no two pieces are ever the same, maybe because it's natural rather than factory produced.' More of Joram's work can be viewed on his website at Grace Woodworks
Rob Stockley commented:
We know these tables will outlast most of us. We have already agreed to update the list of names on Lockhart Garratt's 50th anniversary! Hats off to Grace Woodworks and Sutton Timber for a lovely bit of work