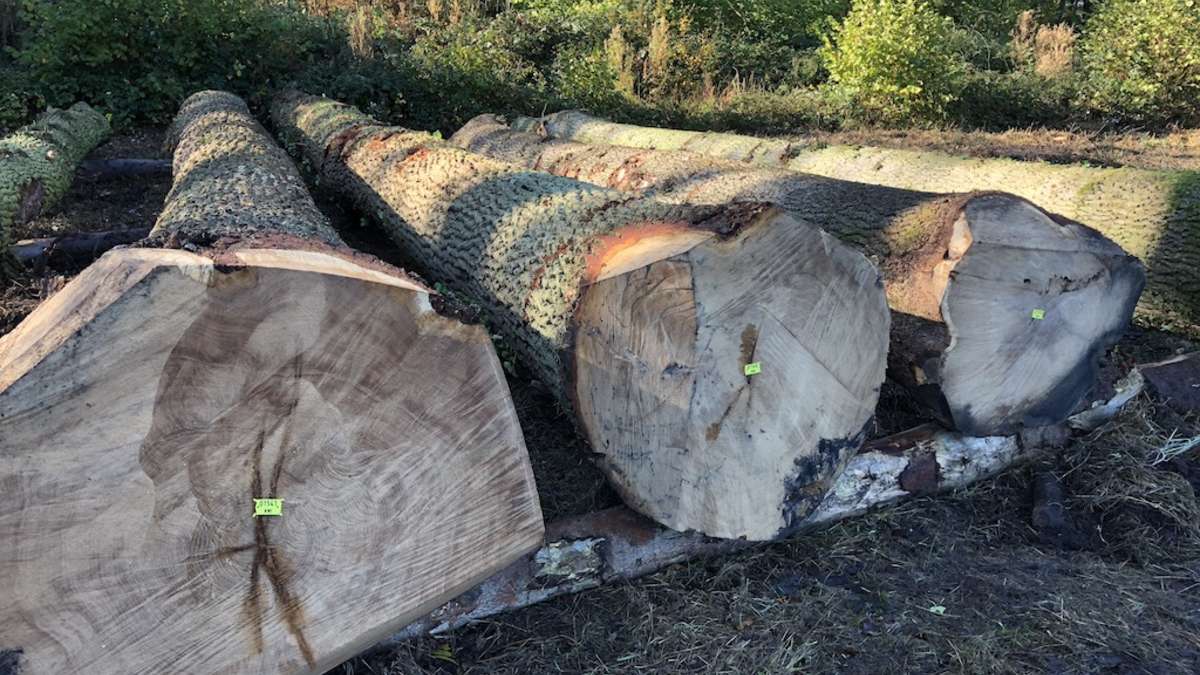 Round log buying for me at Sutton Timber is such a pleasure – visiting our native woodlands and seeing estates up and down the country is always really interesting. I get to meet Estate Managers, Woodland Owners and Foresters, all of whom have extensive knowledge of their woodlands. I buy sustainably sourced freshly felled timber and inspect the round logs onsite.
When round log buying I am typically looking for a clean log with a straight grain that does not twist around its circumference. Twisted bark could represent spiralling grain in the board which when dried leads to a propeller shaped board. The sawn face of the tree should show a good central heart, with even rings and no indication of 'shake. Shake occurs along the annual rings and presence of it is a disaster for the saw miller. It could mean the boards separating as they come off the saw or when kiln drying. It is basically unsaleable.
I am looking for a log of even colour. Honey tones for oak or a darker brown for elm. Most of the ash we buy is olive ash – it is a combination of creamy white and a darker biscuit colour. Sycamore needs to be a creamy white all through if possible, though like ash, bigger trees have a coloured heart. Ripple Sycamore is particularly sought after and is found by removing a slab of bark to reveal ripples underneath.
Burr oak is another feature I look for – burrs are gnarley lumps on the trunk and can be large or small. The quality of the of the burr inside is not revealed until the log is sawn and cut into boards. Buying burr oak is a very risky business. The logs are expensive and can very often be badly shaken or not at all burry inside. However, this all adds to the expectation when milling when the true form of the fabulous grain is revealed.
It is the ethos of our business to provide the highest quality product at the best possible value. I personally view and buy all our logs and oversee every log during the milling process. I decide the quality and grade of each log before overseeing the milling process. The boards are either kiln or air dried according to the pre-determined grade. By overseeing the entire process from woodland floor to end user I take responsibility for all our timber and personally guarantee a bespoke service tailored to our customers requirements.