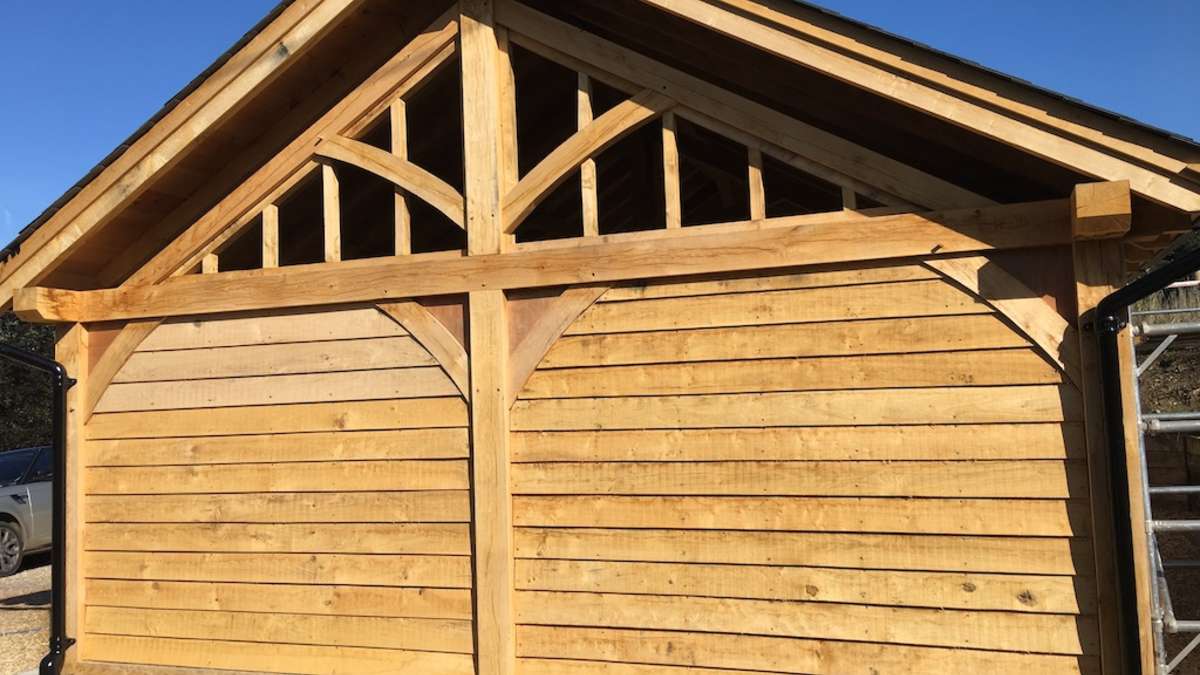 Exterior timber cladding is an increasingly popular way to finish the outside of a building. Within this guide we help you make an informed choice about the different types of cladding available. The range of species of timber cladding available provides the home owner and designer various design options. Used in its entirety to cover a building, or in combination with traditional brick, contemporary, uniformly urban, or even rustic look can be achieved.
Contributing to a buildings sustainable footprint cladding is extremely popular with architects and designers. It ticks all the boxes; being a renewable, recyclable and biodegradable product. Sometimes referred to as weatherboarding species available include oak, ash, elm, larch, douglas fir and cedar.
HARDWOODS
OAK
Green oak is generally the exterior timber cladding of choice for outbuildings and barn conversions. When freshly cut it is a pale honey colour which overtime fades to a silvery grey. Available fresh sawn or air dried it is an extremely strong, durable timber. All oak cladding contains some knots. These can be small in size or appear as clusters. Some boards contain medium sized knots up to 25mm and occasionally larger knots. Green oak cladding is popular because of its density, strength and durability. It is most suited to sawn sections such as feather-edge and waney-edge, which create a natural and quite rustic appearance.
ELM
Rarer, and elm timber cladding is a slightly more expensive alternative to oak cladding. However, exhibiting beautiful wild grain patterns along the boards creates a very distinctive rustic appearance.
ASH
Ash, a hardwood with a high number of growth rings, and wavy grain. With fewer knots than oak it provides a clean aesthetically pleasing look. An extremely durable and attractive material for external cladding.
SOFT WOODS
Western red cedar, European larch, and Douglas fir are among the most popular species to use in cladding as they don't require and preservative treatment. All species are naturally resistant to insects, moisture and rot.
LARCH
A very slow growing dense timber and as such has exceptionally high durability for a softwood. When cut colour varies from cream to dark brown. Larch will weather to a silvery grey and can be expected to last around 40 years. It is a high quality cladding and an economical alternative to oak.
DOUGLAS FIR
A homegrown softwood with a reddish brown heartwood and contrasting lighter sapwood. Its distinctive growth rings give the timber a great deal of character. Again an extremely tough timber it grows long and straight producing boards of good length. It looks particularly good when left rough sawn with a waney edge.
CEDAR
Currently a very popular timber for external cladding in the UK. British cedar is very smooth in texture with a very aromatic scent, most apparent when freshly cut. It is surprisingly lightweight and easy to work with but extremely stable with good resistance to decay. Western Red Cedar also has a very beautiful colour and finish, making it very popular. It is however more expensive option than other species but can last up to 60 years.
Cedar can be left untreated but it also takes paints and stains extremely well. It is also an excellent material for thermal insulation – in summer keeping the building cool and in winter preventing the heat from escaping.
THE WEATHERING PROCESS
Left untreated and exposed to the elements all timber 'weathers'. It undergoes changes to both appearance and texture as a result of exposure to sunlight, water and fluctuating temperatures. Over a period of about eighteen months extracts in the wood rise to the surface of the timber which oxidises turning to a beautiful silvery grey.
This gradual ageing process allows the timber to harden. A a result some small surface splits may appear. These are not detrimental to the structure of the timber but part of the natural drying process. Most hardwood cladding is left untreated, but it desired it can be oiled to further enhance its durability and life.
TYPES OF EDGES
SQUARE EDGED
Square-edge boards are sawn planks with exactly that, straight edges. The edges overlap to form either horizontal or vertically cladding. Supplied green (wet), square-edged boards have a rough sawn finish, but boards can also be planed smooth. (PAR).
FEATHER EDGED
Supplied with one straight edge cut at an angle, feather edged cladding achieves a more formal look. The straight edge allows for seamless overlapping in construction. By far our most popular style of cladding and we usually supply it ex 38mm cut to allow a 28.8mm finish.
WANEY EDGED
Waney edged cladding retains one natural edge has a 15mm depth. It offers a traditional style of cladding and is generally used for outbuildings or cart lodges.
All our exterior timber cladding boards are generally supplied in widths of 150mm or 200mm, with a 25mm overlap as standard, but all specifications can be tailored to. Call Ben Sutton 01986 781575 or email sales @suttontimber.co.uk for more information and prices.