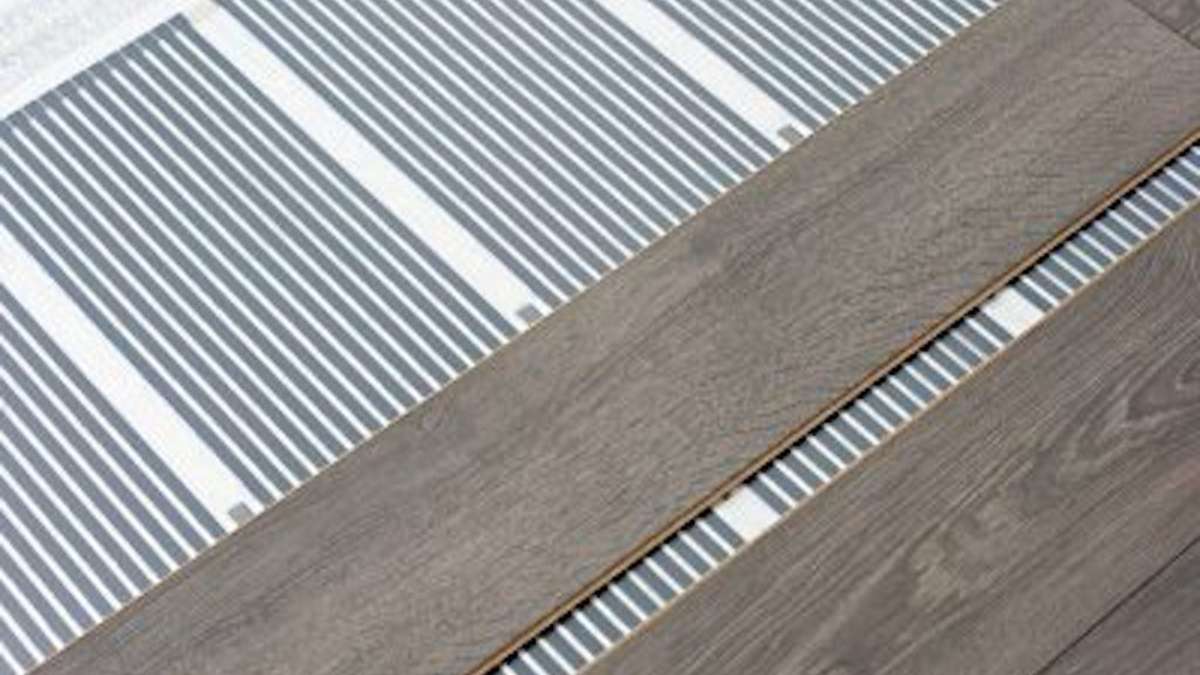 When installing a hardwood floor over underfloor heating it is important to use engineered wood flooring.  Available in a huge range of styles and finishes put simply it's a top layer of solid veneer bonded onto multiple layers of tightly fused together ply.  This fusion of layers makes the boards more dimensionally stable than a solid wood floorboard and less prone to movement.   Therefore, offering the look of a solid wood floor but with absolute stability throughout. When deciding on an engineered floor over underfloor heating there are a few points to consider:-
SUBFLOOR
It is vital the sub floor is in a good sound condition and this may require improving to ensure it is stable. It must be clean, dry and free of dust, with a level surface and no more than a 2mm fall over an area of  2 metres. Laying of any wood floor is only as good as the sub-floor. There are three main types:- Floor joists or battens, existing floorboards or chipboard and concrete or screed. 
PREPARING THE ROOM PRIOR TO FITTING
If fitting over a screed it is important to check the moisture content.   This must be 1.8% for a cement screed or 0.3 for an anhydrite floor. To achieve these levels allow the floor to dry by keeping the under floor heating on a very low setting until the correct levels of moisture are reached.  It may be necessary to use a de-humidifier.  It is very important not to dry the screed out too quickly otherwise it may crack. 
All wet trades such as plaster and paint should completely dry. Ensure the heating is on for at least a week, running at normal temperature prior to fitting. Reduce this to a minimum before the flooring arrives. (a temperature of between 18-20 C of the water inside the pipes in the underfloor heating). Maintain this temperature whilst the floor is installed.
ACCLIMATISING THE FLOORING BOARDS
Engineered flooring generally arrives wrapped.  It is important to keep it in its original packaging as it is already dried to a lower moisture content this needs to be maintained prior to fitting.  (You are trying to achieve the temperature and humidity of the wood,  in equilibrium to the room where the floor is to be laid) On receipt of the flooring allow the wood to settle into its environment. Stack boards horizontally in the room where the floor is due to be fitted. Preferably on bearers for at least 3-5 days so the packs do not sag.  Lay all flooring flat, as propping it up causes bowing of the boards.
ALLOWING FOR EXPANSION GAPS
We recommend an expansion gap 10-15mm around the edge of the room. This allows for any movement and the skirting conceals it.  The flexibility of the glue allows for expansion and contraction of the floor as the temperature rises and falls.
TYPES OF FITTNG
There are various ways of fitting an engineered floor. Produced with a tongue and groove on four sides it simply slots together. It can be secret nailed to a wooden sub-floor or can be glued down if laying onto a concrete base.
GLUING ONTO A SUB FLOOR
A flexible bonding agent is applied to the prepared cement sub-floor and boards are placed directly on top.  Due to the flexibility of the glue it allows for expansion and contraction. Occasionally a damp proof membrane is required to ensure that none of the residual dampness rises up into the floor
NAILING (SECRET NAILING)
A more traditional method of laying a floor. Nails are put through the tongue of the boards and then covered when the groove is butted up to the secured board. Nailed floors can be laid over battens, directly on to the timber floor joists or straight onto a concrete sub floor.
FLOATING FLOOR
Floating is a term describing a specific way of fitting a floor. It is installed over a suitable existing underlay such as concrete, plywood or vinyl which itself is also laid over an appropriate sub floor. A floating floor is not fixed down to the sub floor so the only part that is glued is the tongue to the groove. The whole floor relies on the weight of the floor keeping it in position. It is a popular and quick way of laying an engineered floor.
AFTER FITTING IS COMPLETED
Once completed increase the heat gradually by a maximum of 1-2 C a day until the desired temperature has been achieved, but must not exceed 27 C.  The temperature of underfloor heating adjusted too drastically.  Advice too is not to turn systems turned.  However, if this is impractical when turning back on, do it gradually, increasing by 1 degree per day.  It is advisable not to use rugs to cover areas of the floor as this could raise the temperature above the recommended level.
Engineered flooring is an excellent alternative to solid wood flooring. It is more practical in many ways, making it more versatile to a wider variety of environments, There are a wide range of styles, species, finishes and shades to choose from.
Please note the information given is intended as a guide. We strongly advise installation of engineered flooring is carried out by an experienced fitter. Visit the engineered flooring page of our website to view our range of available flooring here.