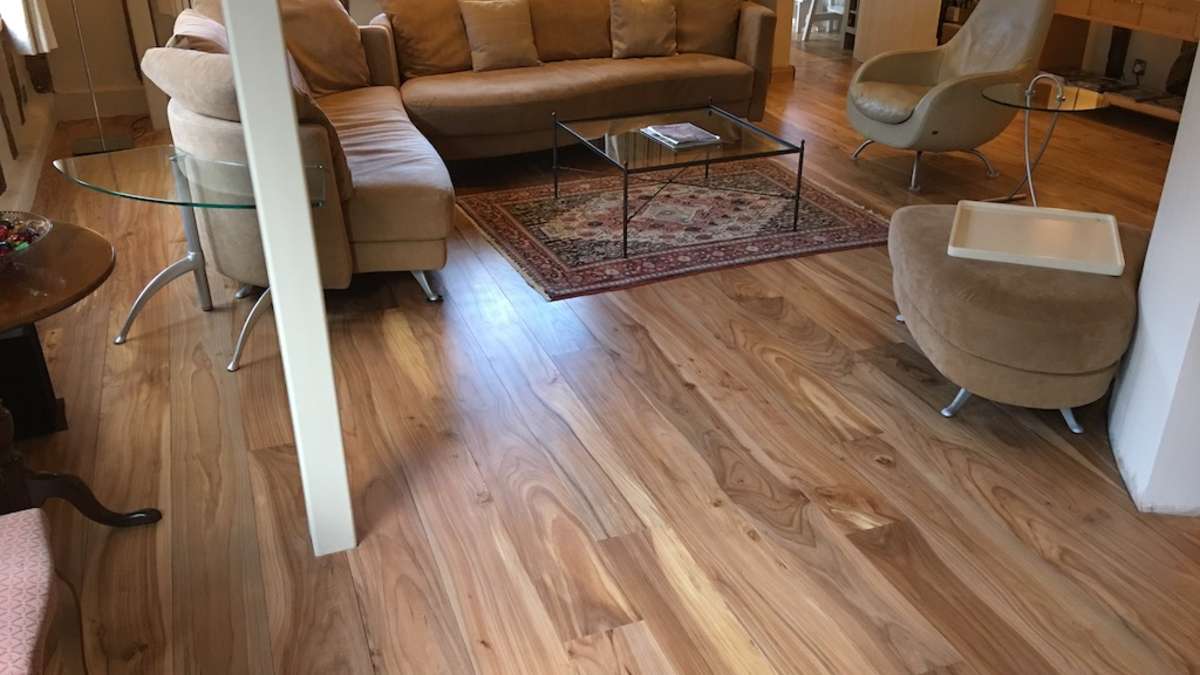 Originally named Elm Farm this derelict 15th Century farmhouse renovated over 40 years ago was due an update. Previously surrounded by elm trees, elm would also have been originally used in the interior frame of the property. After a leaky pipe necessitated the replacement of the screed in the entire ground floor our clients decided to opt for a total redesign using engineered elm flooring. With a sentimental attachment to this particular timber they wanted to again incorporate elm into the building. With its fabulous colour, texture and beautiful swirling grain it seemed the obvious choice.
The engineered elm flooring boards, laid horizontally are of mixed width ranging from 120mm 160mm and 220mm throughout. Giving a feeling of flow throughout the entire ground floor it opens up the space. Finishing with a coat of natural oil enhances the natural properties of the timber.
Loving the look immensely, our clients decided to incorporate a steel and elm spiral staircase. Held up by a central support with steel balustrade and rail there are thirteen identical treads of solid elm. It makes a stunning feature stair rising to the upper floor. Laid over the existing landing floor a solid elm floor completes the look. This also raised the levels slightly to accommodate the final step on the staircase. The whole stair design was built and crafted by furniture designer and cabinet maker Derrick Ibbott who carefully steam bent the rail into shape using the same elm as the flooring a true work of art.
Sutton Timber recommended RHS Flooring and Richard Higgins to lay the floor. Richard has not only the practical experience of laying floors but also the knowledge to consider that it needs to be laid sympathetically. to ensure that natural variations in colour, grain texture and knots are taken into account. This affects the overall visual impact of the floor as a whole and ensures an elegant finish that displays the wood to its best advantage.
Mr Wollaston commented: 'The floor is magnificent and just what we wanted. Sutton Timber's recommendation of Richard Higgins and Derrick Ibbott was an excellent choice. Particularly pleased with the finishings, Richard has achieved the most excellent results. Both Richard and Derrick's standard of workmanship is exceptional. Coupled with the product and service received from Sutton Timber it made the renovation of our home an absolute pleasure.