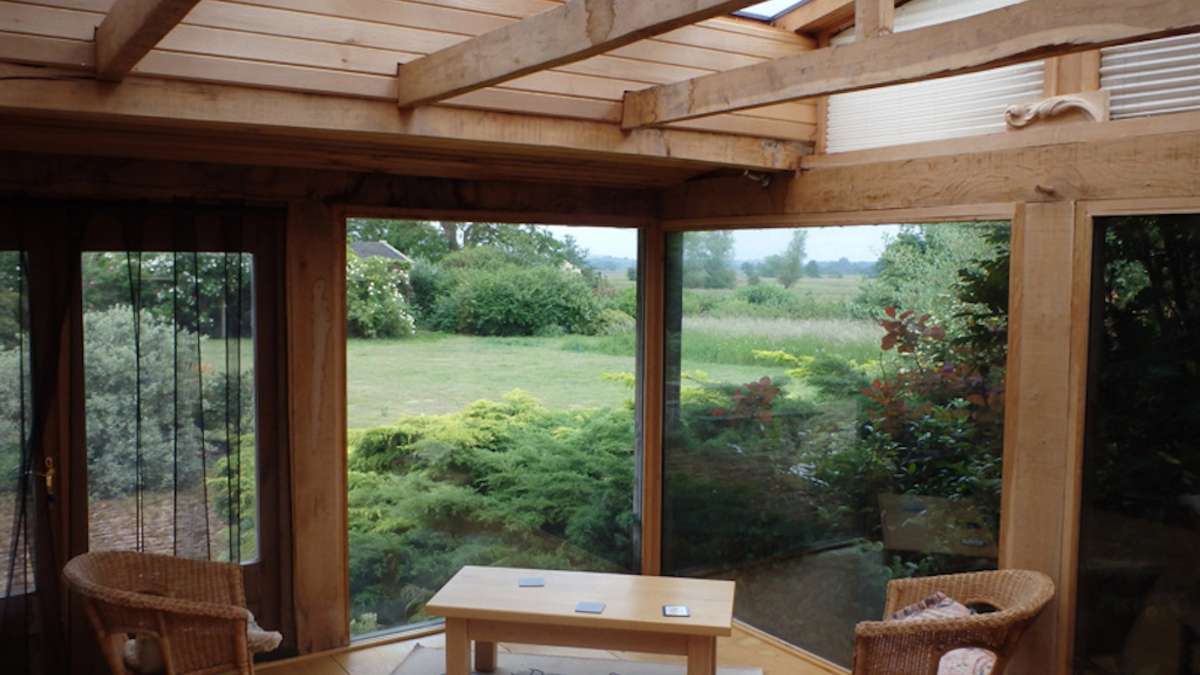 It is always great to hear from past clients and to receive images of their projects, particularly when it has been their own work and labours. It not only gives the owner a great sense of achievement but also it is great for us as a company to know that the green oak we supplied was a perfect match for the job. Mr Lees made a superb job of this conservatory and below he explains the reasons for his choice and the course the project took:
'The conservatory was essential as there are long views and often a strong prevailing wind. The large green oak beams enabled big double-glazed windows and magnificent internal and external views. The roof gives good protection against the sun on hot days and the room is warm on cooler days. The cedar planking on much of the internal roof – has a fantastic scent"
Large Living Room Window "The barn living room window (3.6 metres across, 3.32 metres high) now has 6 large windows with 22 mm thick glass panes and thick, matured oak of excellent quality. All the original windows and exterior doors are being replaced by mature oak. The advantage is that with no chemical or paint exterior covering they will last for many years."
More difficult to procure in the UK is thick section oak. This was needed for large exterior windows and doors for the main house. It requires years of maturing at this thickness for this role, and kiln drying is impractical for this size. After considerable research to find alternatives Sutton Timber were the only place I found who stocked matured thick section oak suitable for this role.
I do not paint or varnish the exterior oak so get no rot over the years. No painting is needed, and, in my opinion, the barn looks beautiful and requires little exterior maintenance of the mature doors or windows now or in the future – many thanks to Sutton Timber'.
Mr Lees – Norfolk