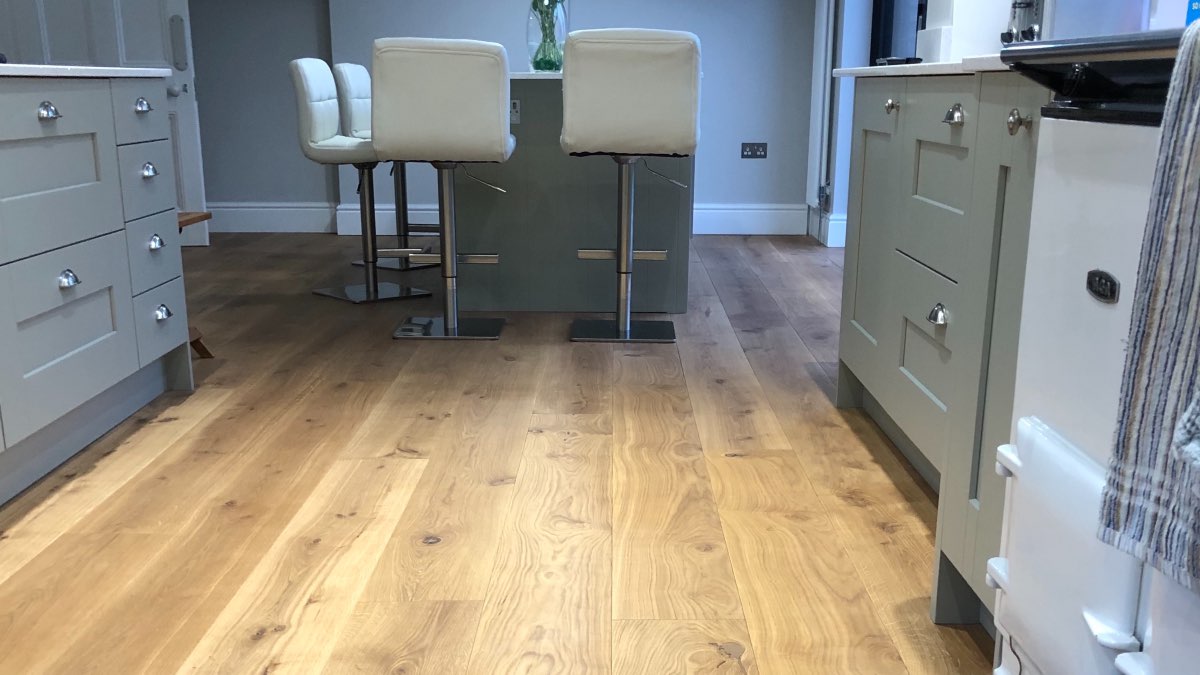 Wood flooring in a kitchen be it either solid or engineered is perfectly fine. It's hard-wearing, easy to clean and an ideal choice for areas of high traffic. It's very much dependant on the style of the property. For an older or period property we recommend solid, adored for its timeless quality, warmth and character. In a big farmhouse kitchen it really does look impressive.
A solid wood floor requires a finish and with the everyday challenges of a kitchen environment it is best to protect your flooring with an oil or lacquer. If overtime if it becomes worn or needs refreshing it is easy enough to sand over and reapply the oil to get that brand new look.
An oiled floor offers a more natural look than a lacquer. It does have a some natural resistant to liquid spills allowing protection from the odd accident. However, it is important to deal with any spill or splashes immediately. An oiled finish does require cleaning more regularly to prevent any spills or stains from causing damage.
A lacquered wood finish is harder wearing than oil. It shields the wood at surface-level so liquid and stains can't penetrate as easily. It's also more hygienic and helps to prevent a build-up of bacteria in the floor.
Cleaning a solid wood floor is a matter of simply vacuuming first removing any dust and grit particles. Next clean with a damp mop or cloth working along the grain of the floor. We recommend using Osmo Wash and Care. Mop dry any excess moisture, to avoid penetration into joints of floor boards. Regular use will enhance the floor's resistance to dirt and signs of wear.
A good quality engineered floor is equally if not a better option than solid. It's all about the top wear layer, which needs to be a minimum of 5mm. All our engineered flooring has a wear layer of 5.5mm which is glued to best quality 12mm or 15mm exterior birch ply. This produces a floorboard that looks identical to solid but has had any tension removed providing stability and reliability to resist the fluctuations in heat and humidity found in some kitchens. Again with a good quality engineered floor – if required the whole floor may be re-sanded back to new.
Wood flooring naturally expands and contracts as heat and moisture levels rise and fall. In most rooms of the home, these changes are small but heat and steam from cooking can cause larger fluctuations in the kitchen. Especially in a small area. To control these changes and ensure the flooring stays in tip top condition, the kitchen should be well ventilated and fitted with an extraction fan.
In an open plan kitchen wood flooring really does look stunning and brings the whole area together. With such a vast range of colours and styles of engineered flooring available the skies the limit with regards to choice. Take a look at our website or visit our Pinterest page for more inspiration.