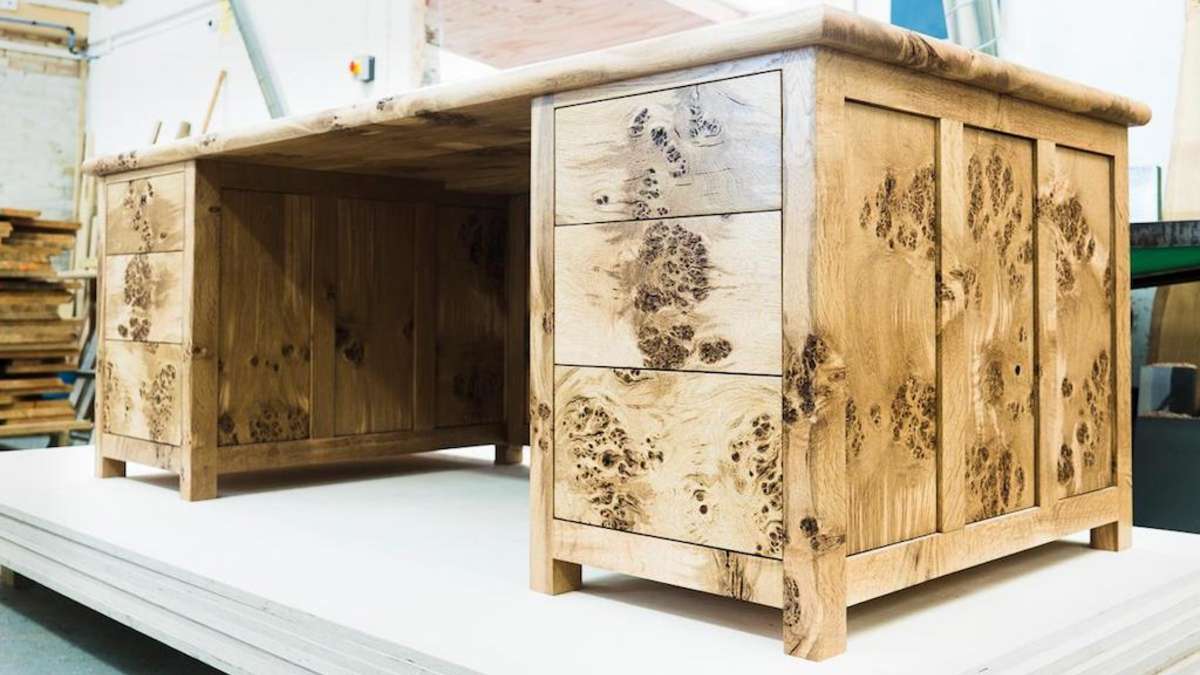 Another fabulous piece of furniture produced by Brendan at Worsley Woodworking. A stunning burr oak desk inspired by the beautiful grain. But what is burr oak? A burr is a growth appearing rather like a large lump on the trunk of the tree. These lumps are a good indication the tree will contain burry grain. Some trees are heavily burred all the way to the centre and along their length, while others only feature burr where these protruding lumps appear.
Burrs appear in only a small proportion of oak trees and is possibly caused by a mineral imbalance in the soil. Another theory is that it is protection as a result of a wound in a damaged trunk. Generally burrs are found on trees grown in woodlands benefiting from greater light penetration which allow trees to spread themselves creating a wilder shape.
Only when the trunk is milled into boards is the extent of this fabulous grain revealed. It is a marvel of nature. The grain is very wild and dense and moves in all directions across the board. Exhibiting clusters of patterning, small knots and cracks which all contribute to its character.
This fabulous burr oak desk was a commission. The client had a 'vague idea of what he wanted,' originally thinking of using a rippled sycamore veneer to make a geometric pattern. However, he was concerned about the strength, longevity and robustness of using a veneer. Ultimately he decided on a solid English hardwood. After a visit to the timber yard at Sotterley the client selected English burr oak.
Burr can be difficult to work, it is much denser than other timbers giving it a hard but slightly brittle quality. With the grain moving in all directions it is challenging to hand plane as it can tear out easily. Brendan hand cut most of the joints taking a total of 220 hours to produce the desk. Specifically choosing boards which highlighted the grain at every opportunity. Finished with a wax oil generally used for kitchen worktops or flooring the result is a very tough super smooth finish.
The desk features framed side panels highlighting the burry grain. Six leather lined drawers, with a top drawer containing an exquisite tray to house pens. A secret removable panel to hide the ugly but much required electricity points. Plus, and much to the surprise and delight of the client, a secret cupboard.
After establishing his client required 'burr oak' Brendan commented. 'Well there is only one place to go for that! – We are happy to be of service and compliment Brendan on a beautiful piece of craftsmanship.